Cox Business Managed WiFi provides your customers and employees with a commercial-grade, fast, and secure connection to the internet wirelessly. Private Network packages offer wireless and wired connections.
Basic LAN Integration
Read the following information to learn about basic Local Area Network (LAN) integration.
Basic LAN Integration allows the integration between the wired LAN and the Wireless LAN (WLAN). Common devices include desktop computers, servers, printers, point of sale equipment, surveillance cameras, tablets, smart phones, and laptops.
Cox Business a la carte products use additional IPv4 static IP addresses to connect additional equipment.
Unmanaged PORT 10 on Cisco Switch will provide your in-house technician the ability to manage equipment not associated with the Managed Cox Business Service.

Cox Business customers are responsible for security and maintenance of the equipment connected to the unmanaged port.
A Layer 3 Edge Router is needed to create a separate LAN network.
Switch Port Connection
Businesses can select from the following WiFi networks.
Guest Network
Private Network
The Managed WiFi Switch is configured with managed and one unmanaged ports. A business can connect personally managed equipment to port 10.

Note: Wireless and wired networks communicate only on the same network. For example, a device connected to Private Network (SSID PRI-1) cannot communicate with a device connected to Private Network (SSID PRI-2). Private network printers need to be connected to the same wireless or wired private network as the device desired to print from.


Port Number
Details
1

Uplink to Cable Modem

2

Uplink to V-Edge: DNS Cox Business Managed Device

Most customers will see a smaller version of a desktop tower with a brand name HP-ProDesk or Dell.
The V-Edge status is not always viewable from the portal network tab.
This device is a DNS server. If it is not functioning, then no one is able to access websites. It must be on and may need to be rebooted.

3-5

2 - 3 Wireless Access Points.
Consolidated WIFI may have additional switches connected and have more access points than Managed WiFi customers.
Wireless access points can be reset by the customer or through the portal.

6-8
Wired Private LAN Managed port - Integrating wired and wireless devices on one network
9, 11, 12
Ports are disabled and will not work.
10
Unmanaged enabled port available for your personally managed equipment. Devices using port 10 will not be able to communicate with devices on the Cox Business Managed LAN, wired or wireless, network.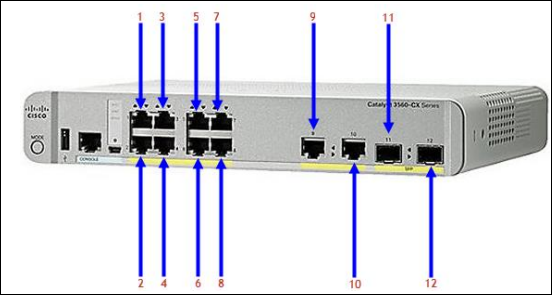 Support Scope
Use the table below to view items that are in and out of the scope of the scope of technical support provided by Cox Business.

Support Scope
Activities
In-Scope

Note: Non-authorized users are only supported for guest wireless SSID.

Static IP address (Private / Internal) Private Managed Network (Wireless SSID 1 to 4 and Wired ports to 6 to 8)
WiFi Portal Access and Circuit Education
Internet access and modem CPE
Configuration of select devices
WiFi equipment including switch, router, access points and cabling
Guest splash page customization
WiFi heat mapping
Wireless connectivity via browser
Static IP address (Public IP) to Private Unmanaged Network (port 10)
Content filtering
Usage reporting
MAC address authentication
Guest splash page templates
SSID management
Hidden SSID
Passcode management (manual / automated)
End user speed management / profiles
Browser-less devices

Out-of-Scope

Connecting applications and web services, such as VPN, Skype, Microsoft software, and others
Guest splash page customization
Content filtering customization
Onboard firewall customization