Cox Business Managed WiFi provides your customers and employees with a commercial-grade, fast, and secure connection to the internet via WiFi. Read the following information about basic Local Area Network (LAN) Integration.
Basic LAN Integration
Read the following information to learn about basic Local Area Network (LAN) integration.
Basic LAN Integration allows the integration between the wired LAN and the Wireless LAN (WLAN) to enable wired devices to communicate with wireless devices across the same network layer. Common devices include desktop computers, servers, printers, point of sale equipment, surveillance cameras, tablets, smart phones, and laptops, as well as other things. This enables customers to print from a tablet to a wired printer, or to print from a wired desktop computer to a WiFi printer.
During initial installation, Cox Business provides additional information about the availability of a la carte IPv4 static IP addresses to help attach equipment to an unmanaged port.
Unmanaged ports (Direct Internet Access) are used for servers and equipment that require a direct connection to the internet. They are also used for equipment is reached from outside your business's firewall.
For Direct Internet Access configuration, the connection to internet is open. Your business is responsible for providing security, for example a firewall, between the Switch and your equipment.
A Layer 3 Edge Router is required to connect more than one server or network equipment to the unmanaged port.
Switch Port Connection
Businesses can select from the following WiFi networks.
Guest Network
Private Network
The Managed WiFi Switch is configured with managed and unmanaged ports. An Unmanaged Port access Network determines what devices can be connected to available ports. Learn more using the table and image below.


Port Number
Details
1

Uplink to Cable Modem

2
Uplink to vEdge
3-5

Wireless Access Points
No device should be connected to port 5 for locations that only have two access points installed.

6-8
Private LAN Managed port - enabled ports
9, 11, 12
Disabled ports
10
Unmanaged port - enabled port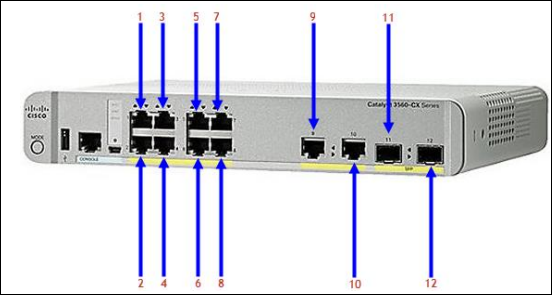 Connecting Devices to a Modem
Use the table below to connect devices to your modem.


| If... | Then... |
| --- | --- |
| Integrating Wired and Wireless devices on one network | Connect the device to one of the Managed ports 6-8. |
| Enabling Bridge Mode with direct access to internet and excluding the device from your WiFi network | Connect to unmanaged port 10. |

Notes:
Devices connected to Managed WiFi, ports only communicate with other devices that are connected to Managed ports and wireless devices connected to a WiFi Private SSID 1.
A device connected to a Private SSID 1 does not communicate with a device connected to a Private SSID 2 and vice versa.
A device connected to Private SSID 2 cannot connect to a wired device that is connected to ports 6-8.
Support Scope
Use the table below to view items that are in and out of the scope of technical support provided by Cox Business.

Support Scope
Activities
In-Scope

Static IP address (Private / Internal) Private Managed Network (Wireless SSID 1 to 4 and Wired ports to 6 to 8)
WiFi Portal Access and Circuit Education
Internet access and modem CPE
Configuration of select devices
WiFi equipment including switch, router, access points and cabling
Guest splash page customization
WiFi heat mapping
Wireless connectivity via browser
Static IP address (Public IP) to Private Unmanaged Network (port 10)
Content filtering
Usage reporting
MAC address authentication
Guest splash page templates
SSID management
Hidden SSID
Passcode management (manual / automated)
End user speed management / profiles
Browser-less devices

Out-of-Scope

Connecting applications and web services, such as VPN, Skype, Microsoft software, and others
Guest splash page customization
Content filtering customization
Onboard firewall customization