Billing & Account Support
Summary
Learn how to add an authorized users for your account on Cox.com.
Solution
Authorized User in My Account are for online access only. Customers who contact Cox by phone to discuss account issues cannot use their Cox Digital Identity as a form of identification.
2
From the Cox.com home page, click Sign In My Account.
Under My Account click Profile & Settings.
3
Enter your primary User ID and Password, then click Sign In.
 
Note: You must log in as the primary Account Holder to create or modify an Authorized User.
 
Result: The My Account Profile & Settings window displays.
4
Under My Account Profile & Settings, click Edit next to Add an Authorized User to my account, modify settings.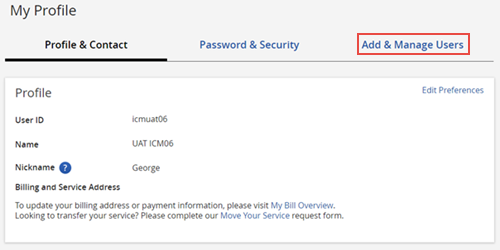 5
Select Add an additional Authorized User, then click Add.
 
Note: If you are in the process of transferring your services, an error message displays. An Authorized User can't be added until the transfer completes.
6
Complete the following fields.

First Name - Enter the first name of the user.
Last Name - Enter the last name of the user.
User ID Nickname - Enter a nickname for the user ID. This step is optional.
User ID - Enter a user ID.
Password - Create a password and re-enter the password. Click the ? for guidelines.

Note: A password strength meter will show you the security of the new password you select.
 
Billing and Payment Access - Place a check in this box to grant an Authorized User the same access to the account billing and payment areas as the Account Holder. For more information, see Understanding Digital Identities and Account Types.
Challenge and Response - Enter the security code in the space provided.

Click the Submit button.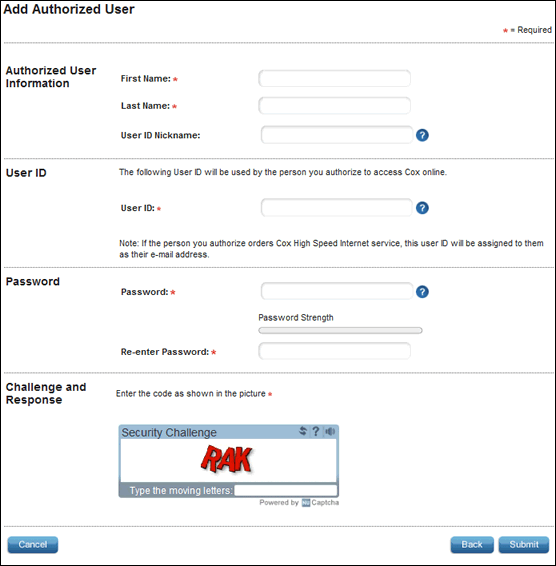 Result: A confirmation window displays the changes and a confirmation email or letter is sent.
7
Click Continue.
 
Result: The Authorized Users window displays the list of Authorized Users, including the one just created.
Suggested Billing & Account Support Results Topics