Billing & Account Support
Summary
Learn how to change your current password online to a new password.
Solution
Your Cox.com password is used with your User ID to log in to personalized Cox webpages, such as View/Pay Bill, WebMail, Phone Tools, Internet Tools, and Account Settings.
2
Click Sign In My Account at the top of the homepage.
3
Sign in with your User ID and Password.
 
Note: If you can't remember your password, click the Forgot User ID / Password? link next to the Sign In button.
 
4
Click View My Profile.



5
Under My Profile, click Password & Security.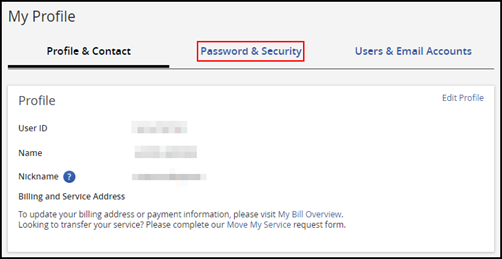 6
In the Password section click Edit Preferences.





Note: If you are in the process of transferring your services, you will receive an error message and will be unable to change your password until the transfer is complete.
 
7
Enter your current Password.
Enter a new Password.
Click Save Changes.


Suggested Billing & Account Support Results Topics