When COVID-19 cancelled Thurman White Middle School's play, Cox reimagined it as an animated film.
When COVID-19 cancelled their school play, Cox partnered with Thurman White Middle School and Academy Award winning director Patrick Osborne to reimagine the play as an animated short, voiced and performed by the students. The result was Drawn Closer, a heartfelt story of a school play in trouble, and a drama class determined to save it.

It's the opening night of Thurman White Middle School's big play, and everything seems to be going wrong. Between stage fright, costume malfunctions, and a star stuck at home with a literal broken leg, these scrappy and determined theatre kids are up against some big obstacles. Through creativity and teamwork, the class comes together to pull it off without anyone being left out. After all, the show must go on… together.
Drawn Closer was voiced and performed by 22 drama students at Thurman White Academy of the Performing Arts in Henderson, NV: Audrey, Ava, Bryan, Bryleigh, Chloe, Evelyn, Everett, Francisco, Geraldine, Kendall, Lanae, Luis, Madison, Maia, Mackenzie, Nathan, Penelopi, Peyton, Preston, Reagan, Rose, Shaylan. Using innovative mobile motion capture technology, the students were able to perform together again – all from the safety of their own homes.
In anticipation of the film's premiere, Cox coordinated a day-long red carpet event to celebrate the talented stars. Students walked the socially-distanced red carpet, were virtually interviewed by Disney star, Will Buie Jr., received an assortment of personalized swag from the film, and – most importantly – watched the film for the first time.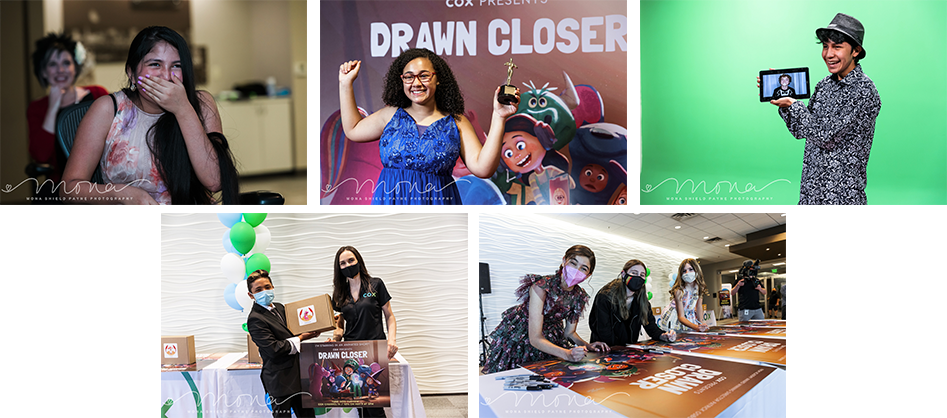 "Our company made a difference in the lives of these wonderful kids (and their parents). The kids at the event were nearly levitating due to their excitement. Many of them referenced their state of depression prior to Drawn Closer and that this experience was the highlight of their entire year," said Stephanie Stallworth, Director, Public & Community Relations.

Cox is driven by a vision to harness the power of technology to bring people closer, especially during these difficult times. Additional acknowledgements go to ad agency 180LA, Nexus Studios, the students' teacher, Ms. Candy Wilder, Thurman White school officials, and Clark County School Board for helping Cox bring this vision to life.