from Angel Piontek, smart real estate agent
Our homes are getting smarter every day. Devices connected to the internet have transformed the way we interact with our homes; from smart window shades to smart showers, we see so much innovation in this space. At their core, smart home devices provide entertainment, peace of mind, convenience, safety, and security.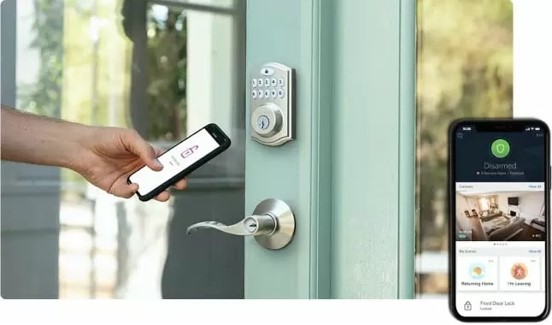 The pandemic has boosted the use of technology overall, and consumer adoption has soared for smart home devices. The average US household now has 25 connected devices; this is a 56% increase from 2019, where the average household had 11 connected devices. The same survey noted that 39% of the homes with connected devices paid for increased home internet speed. Reliable high-speed internet, like Cox Panoramic Wifi, is key to creating a smart home as it supports many different connected devices for streaming, virtual learning, and more. Cox Panoramic Wifi is perfect for ensuring your devices have the bandwidth they need to keep running smoothly.
When it comes to selling your home, smart home devices can play a role in attracting a buyer. A recent survey showed that 52% of consumers would prefer to buy or rent a home with installed smart home technology, and 69% would likely purchase a new home with pre-installed smart tech. There's a lot to consider when it's time to sell, so it's important to work with a real estate agent who knows how to market every aspect of your property. The average buyer will spend 15 minutes in a home so there's not much time to capture their attention. Some devices will attract their attention, and buyers immediately understand the benefits.
Smart Door Lock
A smart lock provides convenience, safety, and security. You can be alerted when the lock has been accessed and by whom by installing a smart lock. You can give virtual keys to your dog walker, cleaning crew, weekend visitors, or a trusted neighbor. The activity log shows every instance the lock has been used. Remote access makes it easy to check whether you've locked your front door from anywhere!
Smart HD Camera
A smart HD camera is an integral part of today's home security plan. Gone are the days of pixelated video footage; a smart HD camera provides high-definition video quality. These devices pack a punch with powerful features like motion detection, night vision, automatic recording, and wi-fi capability. You can also check video in real-time, which provides peace of mind when you're not at home. You can go on vacation and know that you're able to monitor your home and receive notifications when movement is detected.
Smart Thermostat
A smart thermostat ticks a lot of boxes for homeowners. You can save energy, money, and it's incredibly convenient. For the environmentally conscious, this is a great investment in ensuring your heating and cooling system runs as efficiently as possible and that it's not running when you're not at home. The best smart thermostats learn your habits and adjust according to your schedule. You will be able to look at the energy history and know how long your system is running daily.
Things to Consider
Selling a home with smart devices is a market differentiator, but it can also be tricky. As a seller, make sure to set all the devices to factory default. Setting to factory default is critical so that the new homeowners can access the device and set up their accounts. You're not only giving the buyer physical keys but they will need a virtual key hand-off as well at settlement.
If you're a buyer on the market, it's exciting to see smart home devices installed in a home, but there are some things to think about. Many smart home devices are considered personal property and may not convey with the home. If there's a device in question, talk to your real estate agent and make sure the items you want will convey. The best course of action is to get this in writing.
Smart home devices have many benefits when it comes to real estate. It can modernize an older home for a fraction of the cost of a major renovation. It also conveys an increased level of care for the home when you upgrade with smart home devices. Think about what a potential buyer might want to see in the area. If you're in an area that experiences droughts, water management with a smart sprinkler system may greatly benefit you while you're living in the home and when it comes time to sell. The ubiquity of smart home technology continues to increase as homeowners find new ways to make their lives at home better. New home builders are offering smart home packages, different levels of home automation, and wiring it up for the smart home of tomorrow. Incorporating smart tech based on your unique situation creates a better experience at home.