Business TV Service in Enterprise, KS
Get the best deal on business TV service in Enterprise, KS. Cox Business TV is ideal for both small and large businesses, keeping employees and customers informed or entertained. Ideal for bars, restaurants, hotels and health care offices. Choose Cox Business as your local Enterprise business TV provider.
Business TV Plans & Pricing
in Enterprise
Find the best business TV plans in Enterprise, KS. With competitive pricing, Cox Business TV helps your company create a welcoming atmosphere with music, news and information. Choose a business TV bundle with other Cox Business services for even greater savings.
Professional Installation
HD Channels for the Best Viewing Experience
Business TV Features & Benefits
From waiting areas to offices, our business TV services create a welcoming environment where visitors can catch up on the latest local news, weather and financial market updates or listen to music.
Entertainment
Get all of your local channels, plus the best family and entertainment programming for guests to enjoy.
Commercial-free Music
Choose from more than 45 channels of commercial-free, high-quality music with Music Choice® and create the desired ambiance for employees and guests.
Latest News
Stay up-to-date with the best in news and financial information, perfect for your professional environment.
Tailored Plans
Choose from a variety of programming packages to match your business environment.
Easy Installation
Our expert staff will take care of everything, making every effort to minimize the impact on your business operations.
Expert Support
We're here whenever you need us. With 24/7 monitoring and round-the-clock support, our local and responsive teams are available when you need them most.
Business TV FAQs
Specialized sports networks, programming, and live PPV TV events attract customers with games and content they might not get at home and creates an exciting atmosphere that will keep customers coming back.
Cox Business Advanced TV delivers a variety of advanced features to help your business stand out. Learn more about TV for bars & restaurants.
TV for Bars And Restaurants in Enterprise
Be the Best Place to Watch the Big Game
Be the go-to place for every big game, with great sports packages and dependable service in all weather conditions. Many HD packages now available.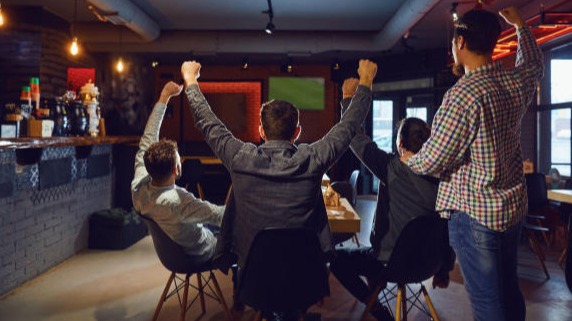 *Pricing reflects popular term agreement option. Actual price may vary based on term, volume and other factors. Minimum term service agreement required. Early termination fee may apply.
See terms and conditions (https://www.cox.com/business/pricing.html). Services and features not available in all areas. Not all services available for public viewing and pricing may vary. Term service agreement required. Cox Business Starter service required for local HD channels. Equipment not required to tune local digital or HD broadcast channels with clear QAM HDTV sets. An HDTV set and an HD receiver or CableCARD™ rental together with a certified compatible CableCARD retail device required in order to access other HD programming. See CableCARD FAQs on www.cox.com for details. CableCARD is a registered trademark of Cable Television Laboratories, Inc. (CableLabs®) and used with permission. Prices exclude installation/activation fees, equipment charges, inside wiring fees, additional outlets, taxes, surcharges (click here for applicable Broadcast Surcharge and Regional surcharges) and other fees. All programming and pricing are subject to change. Programming may vary by location. Other restrictions may apply. Services provided by Cox Business, a division of CoxCom Inc.