With TV Caller ID see the name and number of the person calling you - right from the comfort of your couch.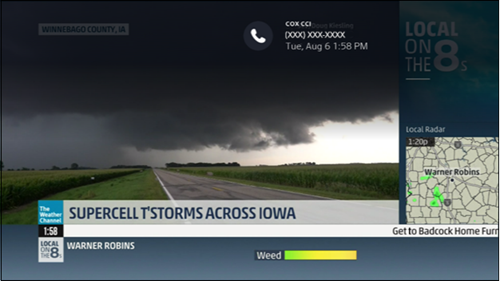 To exit from any TV Caller ID menu, change the channel or press the LAST button on your remote control.
Control the following features with your Cox Remote.
Call Banner - When turned on, incoming caller information is displayed on the TV screen.
Call History - View the most recently received caller's name, telephone number, and date and time the call was received.

Note: Call History is only a feature in the menu of Contour and is not a feature of Contour 2.
Voice Tools offers options to manage your phone account. It is an online resource at voicetools.cox.com.
Review all incoming and outgoing calls.
Listen to and manage voice mail messages.
Display transcribed text next to the playing message if Readable Voice Mail has been turned on for the Voice Mailbox.
Manage features such as Call Forwarding, Caller ID Block, Call Waiting, and Do Not Disturb.
Add multiple email addresses to receive notifications regarding voice mail.
TV Caller ID does not work with Privacy Control features or Cox Mini Boxes.