Cox continues to support existing customers with Cox Email; however, we no longer offer the ability for new and existing Cox Internet customers to create new Cox Email accounts.
Get the most from Cox Email with the following information.
Compatible Browsers
To access the new Cox Email platform at myemail.cox.net, use one of the following browsers on a computer or mobile device.

Desktop Browsers

| Desktop Browser | Version |
| --- | --- |
| Google Chrome | Current and previous version |
| Internet Explorer | 10 or higher |
| Microsoft Edge | 13 or higher |
| Mozilla Firefox | Current and previous version |
| Safari | 10.01 & 10.03 on macOS |

Mobile Browsers

| Mobile Device | Browser |
| --- | --- |
| Android Smartphone | Chrome on Android 4.1 or higher |
| Android Tablet | Chrome on Android 4.1 or higher |
| Apple iPad | Safari on iOS 9 or higher |
| Apple iPhone | Safari on iOS 9 or higher |
Compatible Email Clients
Your Cox Email account is also compatible with email client programs when using the correct Email Server Settings. To use an email client with your Cox Email, Cox recommends that you use the latest versions. The table below provides an overview and support links.

| System | Version and Support |
| --- | --- |
| Recommended email client versions for desktop and laptop computers | |
| Recommended mobile operating system versions for phones and tablets | |
Accessing the Cox Email Inbox
Use the following steps to sign in to your Cox Email account.
Go to myemail.cox.net.
Enter your User ID and Password.
Click Sign In.

Result: Your Inbox displays in the following format.


Note: Top ads cannot be removed but ads on the right-hand side can be hidden or displayed by clicking the right arrow

or left arrow

on the right side of the window.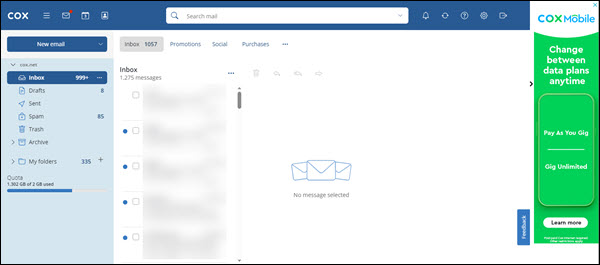 Cox Postmaster
When you receive an email from the Cox Postmaster, it often includes an error message and instructions to learn more at postmaster.cox.net. The Cox Postmaster website contains errror explanations and other information affecting Cox Email. Below is a list of file types that cannot be sent on our simple mail transfer protocol (SMTP) server.

.shb, .shs, .vbe, .vbs, .wsc, .wsf, .wsh, .pif, .msc, .msi, .msp, .reg, .sct, .bat, .chm, .isp, .cpl, .js, .jse, .scr, .exe
Use the following links to learn about more about the Cox Email experience.