The Call History screen shows the following in the Cox Voice Everywhere app.
The All Calls tab displays your Cox Voice call history.
The App Calls tab displays only calls while using the Cox Voice Everywhere app.
Calls over the past 120 days are available.
Call details are available after Voice Tools online has been accessed and the you have visited the Call History tab. This automatically completes the opt-in to begin receiving call history. Calls prior to opt-in are unavailable.
Call history is opted out after 90 days of inactivity. You must opt-in again online through Voice Tools. Any calls received between day 91 and the new opt-in date are not available.
To view Call History, at the bottom of the screen, locate and tap Calls.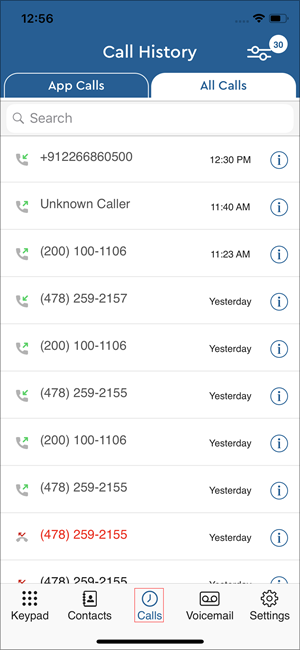 To filter Call History, perform the following steps.
In the upper right of the Call History screen, tap on the filter icon .
Select the filter options below.

Tap the radio button to select the Show options. Select from 7, 30, 60, 90, or 120 days.
Tap one or more boxes to select the Only Show options. Select from Incoming, Outgoing, or Missed.

Tap APPLY to set filters.


Result: The Call History results displays based on the filters set.