We understand that service interruptions are never convenient but when it does happen, resolving the issue is our top priority.

Use the following information to locate service outage notifications and how to opt-in to receive text notifications about the outage.
Service Outage and Request Text Notifications
An outage alert displays when you are signed in to your MyAccount profile or within the Cox app. The outage alert includes the following information.
Estimated repair time

Note: There are exceptions that may cause an estimated repair time to not display, such as natural disasters, significant damage, or a significant increase in use.

Option to sign up for text notifications
Example of an Outage Notification
The following image is an example of an outage message that displays in the Cox App. Alerts sent through MyAccount or by text message display similar information.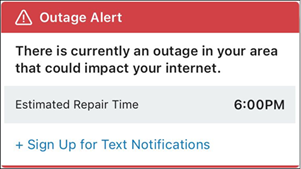 Understanding Text Notifications
The following information provides an overview of the type of text notifications you may receive and how to request or stop updates.
You are opting to receive notifications about the currently declared outage only. When the current outage is resolved, no additional outage notifications are sent after the resolution text.
Contact your mobile carrier for standard text messaging and data rates.
Types of Notifications
The following are the types of notifications that are automatically sent to your cellphone.
What is the Estimated Repair Time
When an Estimated Repair Time is extended or when it ends
When service is restored, and the outage is resolved
When you enter Do Not Disturb hours, you have the option to temporarily pause notifications during nighttime hours or choose to continue receiving updates. If notifications are temporarily paused, you can still request an update.

Requesting an Update or Stopping Notifications
Use the following information to request or stop text notifications about a current outage.
To request an update, text UPDATE to 269898.
To stop notifications, text STOP to 269898.

Note: Message and data rates may apply.