To access the McAfee My Account Portal, go to www.cox.com/securitysuite in your web browser.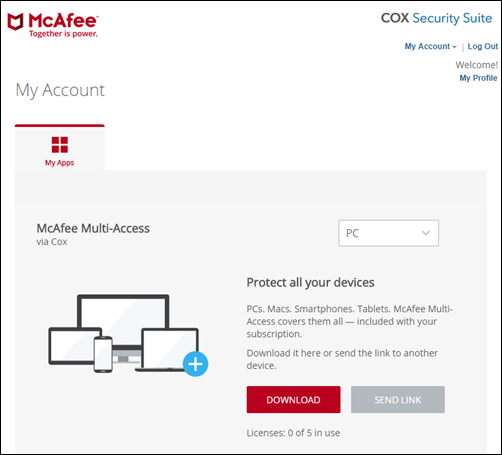 Functionalities
After signing in, you can do the following.
See an overview of all connected devices, including the following.

Devices and installed Cox Security Suite Plus software
Protection status of each device

Add or remove devices.
Reinstall software.
Manage mobile security settings remotely when your device is lost or stolen.
Deactivate licenses for any connected device.

Note: Cox recommends deactivating a device license only in the event that the device is no longer working or not in your possession. Whenever possible, uninstall the software directly from the device.
To manage or use specific software features, open either the Cox Security Suite Plus McAfee Console from your computer or the McAfee Security app on your mobile device.