The Internet Speed Test tool provides a speed test that measures downloads, uploads, and latency on the Cox network. The tool is designed to test speeds when connected to the Cox network. Although the Speed Test tool works off the network, those results aren't indicative of Cox network speeds. The image below is an example of how speed test results display.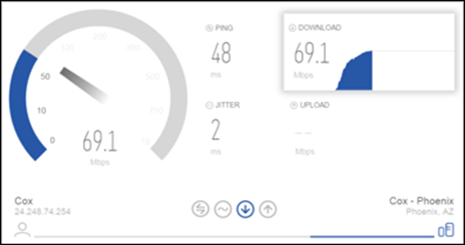 Qualifications
The Internet Speed Test is available to all account holders and Authorized Users.
Understanding Results
Users of the Internet Speed Test tool obtain different results based on their package of Cox High Speed Internet service, the type of Internet device or computer running the test, the network equipment, such as a cable modem, router, or switch, and the type of connection, wired or wireless, that is used.

Because the Internet Speed Test tool can also be used off the Cox network while using a 3G, 4G, or HotSpot connection, the location of where the test runs can also impact results.

Refer to Speeds and Data Plans Information for additional details.