A wireless network (WiFi) is a group of devices, such as computers, game systems, and e-readers, that are connected to each other and to the Internet without cables, also called WiFi. Wireless network users can exchange documents and data with each other, print to the same printers, and share hardware that is connected to the network.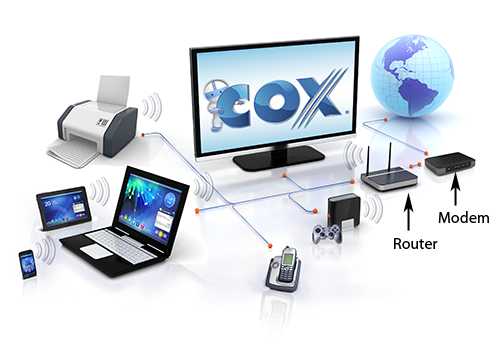 Cox In-Home WiFi allows you to do all of the following.
Share your Internet Connection - Multiple users in your household can access the Internet at once and share photos, music, or important files.
Connect Anywhere in the Home, Wirelessly - Break free from the wires, and connect wirelessly while on the couch, by the pool, or almost anywhere in your home.
Save Money - Pay for only one Internet connection.
Cox offers free telephone-based support for customers who rent a WiFi modem or WiFi Internet and telephone modem by calling 877-891-2899, including the following.
Connection of up to five common entertainment / communication Wi-Fi® enabled devices such as smartphones, tablets, e-readers, and gaming consoles to the network.

Assistance with management of rental WiFi modems, and WiFi Internet and telephone modems.
Assist with SSID / password issues.

Ongoing troubleshooting for wireless network and eligible connected WiFi devices.
Common Terms and Definitions
In-Home WiFi – Allows users to share their Cox High Speed Internet connection between multiple devices.
WiFi Modem – A device that functions as both a modem and a router. The device provides a connection to the Internet through a cable that also transmits a WiFi signal. The WiFi signal allows WiFi-connected devices the ability to access the internet through the modem.
WiFi Internet & Telephone Modem - A combination telephone and WiFi modem.
Signal Range – The area in which a wireless-capable device can pick up the wireless signal and connect to the wireless network.
Network Name (SSID) – The name of a wireless network.
Network Password (Key) – The password used to connect to a wireless network.
Equipment Requirements for Optimal Experience
Cox only recommends and provides certified DOCSIS 3.0 equipment to ensure the best and fastest Internet experience, and provides the latest in WiFi technology.

DOCSIS 3.0 is the very latest Data Over Cable Systems Interface Specification (DOCSIS), and includes many new, advanced performance-enhancing features that are not available on DOCSIS 1.0, 1.1, or 2.0 devices.

If you are purchasing WiFi equipment, 802.11ac Dual Band is recommended.
Current WiFi Technology
The most common WiFi specification in use today is 802.11n, which can operate in both the 2.4GHz and 5GHz RF spectrums. Some WiFi client devices may only use one, with 2.4GHz single band devices being the most common. The latest technology of 802.11ac is also quickly becoming available in many devices.

It is very important to make sure to operate your router or gateway in the RF spectrum that is compatible with your Wi-Fi client devices, 2.4 GHz or 5 GHz.
If you have 802.11g or 802.11b client devices, you will want to make sure to use 2.4 GHz.
If you have dual band 802.11n client devices, then you may choose either SSID, 2.4 GHz or 5 GHz, from your dual band router or gateway.
If you only have a single band router or gateway, then you will need to use the 2.4 GHz band.
It is also important to understand that older legacy WiFi client devices using 802.11g or 802.11b can in fact slow down the wireless network for everybody. When possible, try to only use 802.11n client devices to optimize your wireless network's performance.
Internet Speeds
A wired Ethernet connection always provides the fastest speeds. But in today's wireless world, it is important to know how to optimize your In-Home WiFi Network to achieve the best speeds and connectivity. To learn how to optimize your In-Home WiFi Network, see Ways to Improve Your In-Home WiFi Network.
Cox High Speed Internet advertised speeds are based upon a direct connection to the Internet or phone modem. Actual performance will vary, depending on many factors, including interference with other wireless devices, the amount of bandwidth others are using, and obstructions such as walls between you and the wireless router. Other factors could include the following.
Your WiFi client, such as computer, tablet, printer, mobile device, Smart TV, distance from the router or gateway.
Obstacles between your WiFi client and router / gateway.
Your WiFi network security type.
Your WiFi client equipment type (802.11b / 802.11g / 802.11n / 802.11ac).
The number of simultaneously connected WiFi clients.
Normal WiFi interference from other wireless networks or non-WiFi wireless devices in the area.
Security Settings
Security is important for securing and encrypting the connection between your router or WiFi modem and your wireless WiFi client so that unauthorized persons cannot use your bandwidth and slow your speeds. The type of security you choose is important to maximize your wireless network's performance.

Today, the only IEEE and WiFi Alliance approved WiFi security method is WPA2-PSK (AES) security, and it is the security encryption method that provides the best performance on your network. Some very old WiFi client devices may not support this method, so be aware if you must choose older security methods like WEP or WPA-PSK (TKIP) your wireless network performance may be degraded.
Additional Questions and Answers
View the following frequently asked questions about Cox In-Home WiFi.
Yes, the location of your WiFi modem or router is important to your wireless speed. The farther your computer or other device is from the router, the slower the speed of your Internet service. It is always best to place the WiFi router or modem in the center of the area you wish to cover, and as elevated as high as possible. This will provide for the maximum wireless coverage possible to the highest number of client devices.
If you are having difficulty connecting wirelessly to your router in some instances or only getting a low Mbps wireless link to your client, it might be best to move your router or gateway to a more centralized and elevated area, or consider installing a wireless repeater or range extender to provide additional coverage in areas near the coverage border. To learn how to optimize your In-Home WiFi Network, see
Ways to Improve Your In-Home WiFi Network.
Cox recommends the following distances between household appliances and your In-Home WiFi device.
Microwave ovens - approximately 40 feet
Baby monitors - approximately 20 - 40 feet
Cordless phones - approximately 20 - 30 feet
Bluetooth® devices - approximately 20 feet
Most wireless routers and WiFi modems today do a good job of managing normal residential simultaneous wireless connections. However, your wireless network's bandwidth is shared with each device that is connected to the Internet.
Cox offers the latest in WiFi equipment and also provides free support as part of our equipment rental program. If you are renting a Cox WiFi Modem, contact us for support or to learn more about renting equipment.

If you are not renting Cox WiFi equipment, Cox Tech Solutions is a fee-based, advanced technical support service available anytime you need assistance. Call 877-832-7658 (877-TEC-SOLV) for more information.
Internet equipment purchased from Cox have the following warranties. If the equipment fails during the Cox-covered warranty, Cox will replace the defective unit free of charge.
Standalone Modems - One year
WiFi Modems - Two year
Routers - No warranty from Cox; warranty covered by the router manufacturer