Cox encourages responsible internet use. Our internet use policy is consistent with the Digital Millennium Copyright Act (DMCA) and allows us to take steps when we receive notifications of claimed infringement.
Repeated notifications of claimed violations on your account could lead to Internet service suspension or termination.
All notifications received by Cox are viewable via My Account at www.cox.com/resaccount/home.cox.
All notifications on your account include a link to www.cox.com/copyright to learn more about the DMCA laws.


Locate a Copyright Violation Notification
Use the following information if you have received a notification in one of the below tools that claims a copyright infringement on your account.
| Access Method | Alert Examples |
| --- | --- |
| Cox app | A service alert displays on the Home screen. To learn more, tap View Violations. |
| My Account | A notification message displays on your My Account profile page. To learn more, click View violations Cox has received for your account. |
Viewing Copyright Notifications in My Account
This portal allows you to view all of your account notifications, including those for claimed copyright infringement. On the Customer Copyright Notification page, you will find a list of the copyright violation notices on your account, as shown in the image below.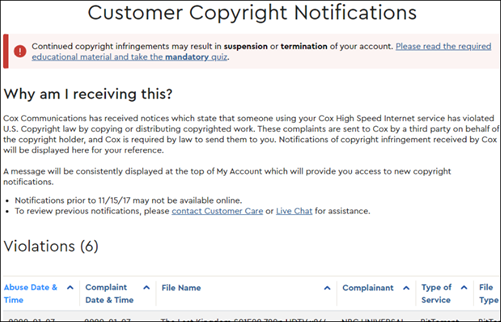 Account Suspension and Termination Notifications
If you continue to receive copyright infringement notifications on your account, Cox suspends your Internet service. In the Customer Portal, you may reactivate your Internet service up to two times. If your account is suspended or terminated for repeated copyright infringement, the following message displays.





If your account continues to receive copyright infringement notifications, your Internet service is terminated, and the following message displays on your account. If your Internet service is terminated for this reason, you must call in to speak with a Cox customer service representative prior to your service being reactivated.