Call Forwarding allows you to send calls to another number by entering a specific number, or by selecting from your Address Book. Additionally, you can send selected calls to a number or send selected calls to voice mail.


This feature is based on subscriptions associated with the account and are not available with Cox Connect. It cannot be used if Voice Mail or Do Not Disturb is turned on.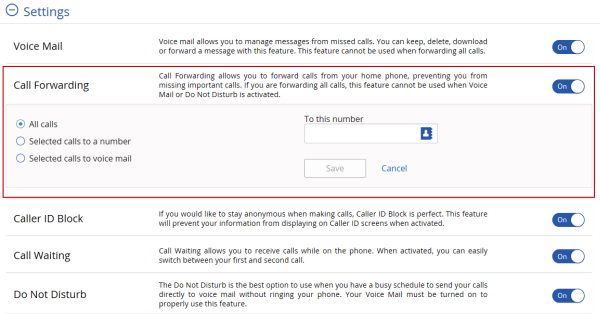 Call Forwarding Options
The table below outlines the available call forwarding options and how calls will be routed according to each type.


| If Call Forwarding... | Then... |
| --- | --- |
| All Calls | Voice Mail and Do Not Disturb cannot be used and will be automatically turned off. |
| Selected calls to a number | These calls will be sent to another number while all other calls will continue to go to the home phone. |
| Selected calls to voice mail | These calls will be sent directly to voice mail while all other calls will continue to go to the home phone. |