After signing in to the Activation Portal, the first page displays the devices associated with the account and its status. The status is displayed in the upper right-hand corner of the device window.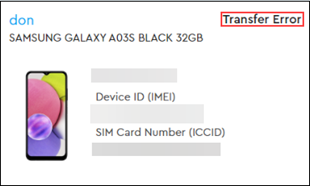 Use the table below to understand the device status.


Status
Description
Actions
Active
The SIM is provisioned by the Mobile Network Operator (MNO) and is ready to insert into the device, or the SIM is inserted in the device, activation is complete, and the device is ready for use.
No action is required. Your phone has completed the activation process.
Activation Error
An internal transfer request or new Mobile Directory Number (MDN) activation has been initiated, however, it has encountered an error.

Note: For transfers, typically the error is with the transfer information which was provided.
Locate the error code, then refer to the Error Codes for specific instructions.
Activation in Progress
The SIM activation was submitted, but no success or failure has been returned. This is a rare scenario where no activation response from the Mobile Network Operator (MNO) has been received.
It can take up to 24 hours to activate. Check the Activation Portal later to get an updated status.
Device Error
The device presented does not contain the minimum required information to perform activation. For example, the device has no associated SIM or vice versa.
Contact us for support.
Limited Use
The SIM activation is complete for an external transfer, but the MDN transfer is not complete.

The number will be fully activated within one to two business days.

You may make outgoing calls, send texts, and use data on your new device.
You cannot receive incoming calls or texts.
Using data until the transfer is complete, use your previous carrier's data usage and limits. Your previous carrier may charge you for any service and usage.

Reactivate
The SIM was deactivated. You need to activate the SIM with the existing MDN.
Using the Activation Portal, restart the activation to reactivate the SIM.
Ready to Activate
A new line activation via transfer, a new mobile directory number (MDN), or a new device on an existing line (NDEL) where a new SIM is provided with a new device.
Using the Activation Portal, begin the activation process.
Replace SIM
The SIM card needs to be replaced.
Contact us for support.
Suspended or Unable to Activate

The line or account is suspended.



The following are examples of supported line-level suspensions.

Fraud Hotline
V-Hotline (from MNO)
Lost or Stolen Suspension
Military Suspension

The following are supported account-level suspensions.

Contact us for support.
Transfer Error
An external transfer request has been initiated, but it encountered an error. Typically the error is with the transfer information provided.
Validate that the port-out pin from your previous carrier is still valid.

If yes, then use the Activation Portal to re-enter the information from your previous carrier.
If no, then contact your previous carrier for a new port-out pin.