Cox Communications offers an interactive menu for the Contour 2 receiver apps. To access the app, refer to Accessing the Apps on a Contour 2 Receiver.
Apps Menu
The apps menu screen contains the following categories.
Featured - Displays six of the top applications, newest releases, and promoted apps
Entertainment - Displays every application in order of most popular
Music & Podcasts - Displays music-specific applications and podcast content
Daily Life - Displays Sports, Weather, Horoscopes, and Stocks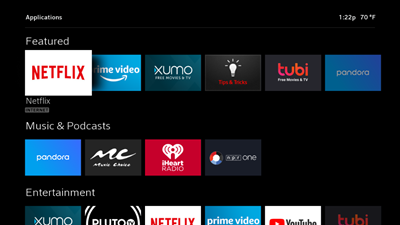 Note: In the Contour 2 on-screen guide, content marked with the icon

counts towards your data usage. For more information, refer to Understanding Data Usage.
Available Apps
Review the table below for the available apps.


App
Description
Amazon Prime Video
Amazon Prime Video or Prime Video is a video streaming service that's included in your Amazon Prime membership. You can watch thousands of titles on Prime Video at no additional cost — including many award-winning movies and critically acclaimed original TV series.
Fawesome TV
A subscription free app that contains a package of channels personalized to meet your interest that enables you to watch content using interactive controls. Covers Food, Games, Style, Comedy, Entertainment, Education, Fitness, Health and more. Customers can install as a standalone channel or group favorites together.
Filmrise
A subscription free app that offers a large collection of free ad-supported movies and TV shows with a library of popular TV shows like the original Roseanne, 3rd Rock from the Sun, Hell's Kitchen, and Kitchen Nightmares along with a collection of live concert videos and classic albums.
HSN
HSN, formerly Home Shopping Network, provides an interactive shopping experience while watching the HSN channel live
Happy Kids
A subscription free app that offers free and safe entertainment including education, music, movies and activities for kids of all ages from 2 to 10.
iHeartRadio
All-in-one digital radio service that lets you find more than 1,900 live stations or create commercial-free, all-music custom stations featuring songs from the artist you select and similar music
Music Choice
Free music service that gives you access to trending songs, music videos, and exclusive artist content
NBC Sports Gold
NBC Sports Gold is a collection of over-the-top subscription streaming television services operated by NBC Sports Group.
Netflix
Streaming service that allows subscribed members to watch a wide variety of award-winning TV shows, movies, documentaries, original content, and more
NPR One
New digital listening app that will blend NPR and Member Station news reporting into a rich, localized, on-demand experience
Pandora
Free music and podcast app that offers up-to-date content offerings and personalized playlists
Pluto TV
Free, ad-supported service that primarily distributes its content through digital linear channels designed to emulate the experience of traditional broadcast programming
Tubi
Free, ad-supported On Demand streaming content that specializes in shows that were syndicated or older movies
YouTube
Video sharing service where users can watch, like, share, comment and upload their own videos
YouTube Kids
Service that gives kids a more contained environment that makes it simpler and more fun for them to explore on their own, and easier for parents and caregivers to guide their journey as they discover new and exciting interests along the way
Xumo
Streaming-video and On Demand service that combines Internet videos into continuously running channels; each channel revolves around a particular brand or publisher, including BuzzFeed, The Young Turks, GQ, and Vice, and shows up in a program guide that users can scroll through
Zone-ify

Zone-ify is the first app service that offers artificial intelligence (AI) to capture what you like to watch and develop a channel that is just for you.

It offers twelve themed On Demand channels and one channel that is personalized to you.
It contains over 6000 hours and 50,000 titles of content.