Business Phone Service in Pocola, OK
Get the best deal on business phone service in Pocola, OK. Whether you need a few phone lines or a complete hosted VoIP system, Cox helps businesses of any size keep connected. Choose Cox Business as your local Pocola business phone provider.
Business Phone Plans & Pricing
in Pocola
Find the best business phone plans in Pocola, OK. Cox helps your business stay connected to your customers with a fully hosted business phone service that integrates your existing equipment and devices. Choose a business phone bundle with other Cox Business services for even greater savings.
Up to 40+ Business Features
Works With Existing Phones
Business Phone Features
Caller ID
Know who's calling before you answer, and block calls, too.
Call Waiting
Catch important calls, even when you're on another call.
Last Number Redial
Connect quickly to recent incoming or outgoing calls.
Call Notify
Stay on top of your calls with email notifications for missed calls or new voicemails.
Call Forwarding
Forward calls when you're busy or unavailable.
Three-way Calling
Merge calls easily between three parties.
Call Holding
Place calls on hold while you make another call.
Speed Dialing
Access frequently-used or hard-to-remember numbers with a single digit.
Compare 40+ Phone Features
Business Phone FAQs
A business phone system is designed to provide seamless communication between your employees and your customers. Rather than having individual, single-line phones for each employee, a unified system streamlines internal and external communications.
There are three broad categories for business phone system types: analog, private branch exchange (PBX), and voice over internet protocol (VoIP). Analog systems are landline-based and allow multiple incoming calls to ring on a single phone. The system requires a receptionist to direct calls to specific extensions and does not support intra-office calling. PBX and VoIP systems work similarly but automate many of the processes that must be handled manually on an analog system.
PBX systems receive calls through a buffer—a centralized, electronic receiving area—and then connect callers with their desired extension via an automated process, rather than relying on a human receptionist. Additionally, PBX systems allow intra-office communication; employees can dial an extension to reach their colleagues without having to engage an external line. PBX systems require a physical infrastructure on-site, so there is an upfront investment in building out that system, plus required maintenance and upkeep throughout the life of the phone system.
VoIP systems offer the same benefits as a PBX system, but they are cloud-based and maintained by a phone service provider like Cox Business and eliminate the need for costly installation and upkeep of PBX hardware.
Hosted VoIP Systems in Pocola
Cloud-based Calling for Your Teams
Go fully hosted with our IP Centrex system -- an advanced, scalable VoIP phone solution that includes all hardware and equipment, along with comprehensive technical support.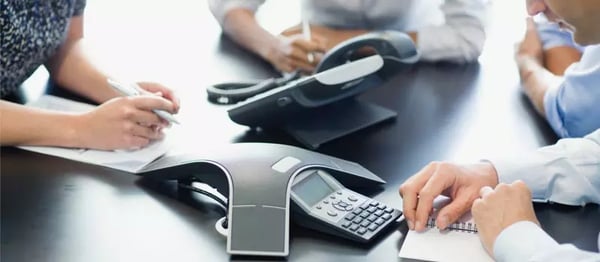 *Pricing reflects popular term agreement option. Actual price may vary based on term, volume and other factors. Minimum term service agreement required. Early termination fee may apply.
Minimum-term service agreement required. Telephone Modem equipment may be required. Telephone Modem requires electrical power and runs on backup battery power if electricity is interrupted. Telephone service, including e911 service, not available during extended power outages, or if modem is moved or inoperable. For long distance service, Cox must be selected as both primary interexchange carrier and local interexchange carrier. Nationwide long distance minutes apply only to outbound, direct-dialed calls within the United States and to Puerto Rico, U.S. Virgin Islands, Northern Mariana Islands and American Samoa. Early termination of service agreement may result in re-rate of long distance minutes. See service agreement for details. Other restrictions apply. Telephone services provided by affiliate of Cox Communications, Inc. View all Legal and Regulatory information (https://www.cox.com/business/phone/e911-regulatory.html).