In December 2019, the TRACED Act was signed into federal law to require all service providers to implement a new technology, referred to as STIR/SHAKEN, to trace all VoIP calls back to an originating service provider using certificates or keys. As part of the TRACED Act, the FCC will ensure that all service providers use STIR/SHAKEN technology for call tracing by July 2021 nationwide, with California law requiring implementation by January 1, 2021. Visit www.fcc.gov/call-authentication to learn more about the TRACED Act and FCC policies.


Note: Our customers are not required to take any action as we apply Call Validation technology to the Cox Business network because it is applied automatically to our infrastructure. If you would like to request an attestation level review or request an elevation to A-level attestation of your business lines, then contact us.


Verified Caller ID
Verified Caller ID is an enhancement to Caller ID that includes a [V] next to the caller's name if Cox Business has confirmed the incoming call has been fully attested by the originating telephone provider. There is no additional cost or installation required. For more information, refer to Using Verified Caller ID.
STIR/SHAKEN Technology
STIR/SHAKEN are acronyms for the Secure Telephone Identity Revisited (STIR) and Signature-based Handling of Asserted Information Using toKENs (SHAKEN) standards. This means that calls traveling through interconnected phone networks, also known as PSTN, would have their Caller ID "signed" as legitimate by originating carriers and validated by other carriers before reaching consumers. STIR/SHAKEN digitally validates the handoff of phone calls passing through the complex web of networks, allowing the phone company of the consumer receiving the call to verify that a call is coming from the number displayed on Caller ID. The image below displays how the technology is applied to the voice networks.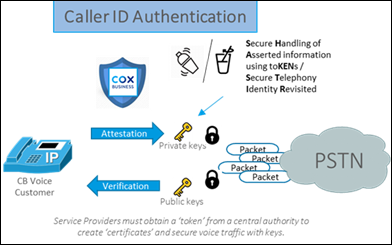 Call Validation
Cox Business is implementing the STIR/SHAKEN technology with the Call Validation feature. Call Validation authenticates inbound and outbound calling across Cox Business' voice network and fulfills FCC goals to combat illegal caller ID spoofing and decrease nuisance calling to end users. Call Validation is also known as attestation.
Outbound calls from Cox Business lines may be attested at different levels.

A-level calls - full attestation
B-level calls - partial attestation
C-level calls - gateway attestation

Inbound calls to Cox Business lines are validated if the calls were attested by the originating service provider.
The default attestation for outbound calls from Cox Business lines is B-level. To attest outbound calls at A-level, the following requirements must be met.
TNs assigned to Cox SPID (including port-ins)
TNs from legacy Cox OCN
Legitimately spoofed non-Cox TNs (calls where the CB customer submits the appropriate forms and is validated by Cox support teams)
TNs associated with National Numbers
Toll-free TNs registered through the Cox RESP ORG
Robocalls and Spoofing
A robocall is a phone call that uses a computerized autodialer to deliver a prerecorded message, as if from a robot. Some examples include the following.
Public service or emergency announcements
School closings, prescription reminders
Political campaigns or telemarketing attempts
Spoofing is falsifying the telephone number or caller ID name to disguise the caller's identity for harmful or fraudulent purposes. The Truth in Caller ID Act prohibits illegal or illegitimate spoofing for callers located in the United States.

Some Cox Business customers use spoofing and are responsible to ensure it's used for legitimate purposes only. However, as call validation and call blocking become more widespread, legitimate spoofed calls may be inadvertently blocked. Contact us to verify call attestation levels and confirm how outbound and inbound calls are routed.
Call Validation Treatment and Call Blocking
Currently, Cox Business does not offer specific tools for widespread call treatment or call blocking. Voice customers have access to the following to avoid unwanted calls. To create and manage rules for incoming calls, refer to Allow or Block Incoming Calls With Selective Call Rules in MyAccount.
Anonymous Call Rejection
Selective Call Rejection
Selective Call Acceptance
Effective in 2022, Call Validation Treatment (CVT) tools launched for Cox Business Voice. These tools provide options for further call treatment including inbound and outbound call blocking from specific telephone numbers. The CVT features are used for approved call treatment requests in response to Legal, Regulatory, and Law Enforcement issues.