The telephone service installed by Cox may utilize an Internet and Voice modem or other equipment that includes one or two batteries.

In the event that a power outage occurs, the battery or batteries provide up to eight hours of power to operate the device. While in most cases the batteries will not need to be replaced for several years, it is recommended that you check the status of your battery regularly.
Alarm System Responsibilities
For customers who have alarm systems or other critical voice lines, refer to the Cox Business Commercial Service Agreement for more information regarding your responsibilities as it relates to alarm systems.
Modem Status Indicator Lights
All of the Internet and Voice modems Cox uses for telephone service have at least eight status indicator lights. The number of lights depends on the number of telephone lines the modem can support and how many are installed. The status indicator lights are clearly marked. Usually, the Battery status indicator light will be located on the left-hand side of the status indicator light field. On some models, the Battery and Power status indicator lights are reversed.

Battery indicates the status of the battery in the modem and Power indicates whether AC power is available to the unit. Both of these status indicator lights should produce a steady green light.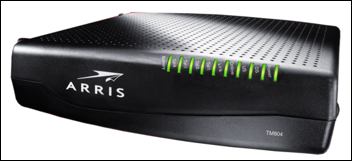 See the table below for statuses indicated by the battery and power lights.

Modem Model
Power Light
Battery Light
Status

Arris models:

TM402
TM502
TM504
TM602
TM604
TM608
TM822
TM804

Solid
Solid Green
No problem
Flashing Green
Action Required
Off
Missing
For Arris models 508 and 512, contact Cox Communications.
Potential Corrective Actions
Here are a few troubleshooting steps you can try on your own.
If the Power Light is off or flashing, check the power source to ensure the device is plugged into a wall outlet or power strip. If it is plugged into a power strip, ensure the switch is on.
Ensure the power cord is tightly connected to the device.
If the device is connected to a power strip, bypass the power strip and plug the device directly into a wall outlet.
If the above actions do not result in the status lights displaying a solid green light, contact us immediately.
Customer Premise Equipment Status Indicator Lights
Cox Business deploys other Customer Premise Equipment (CPE) to support critical voice lines delivered over Cox's network. This equipment includes Adtran IADs and a Vertiv UPS device, which usually include 8-hour battery backup options. The included equipment is as follows.
Vertiv UPS GTX5-500LVRT2UXL UPS
Vertiv GXT5-EBC36VRT2U External Battery Cabinet
Vertiv RDU101 network management card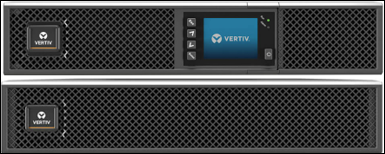 See the table below for Vertiv UPS unit indicator light details.

Device Model
Power Light
Battery Light
Status

Vertiv UPS + Battery

Solid
Solid Green
No problem
Solid Amber
Battery backup active
Off
No power