The Cisco IP Phone 8841 delivers easy-to-use, secure voice communication.
Features
Screen: Color
Lines: 10
USB Ports: 0
Bluetooth: No
Key Expansion Module: No
Front View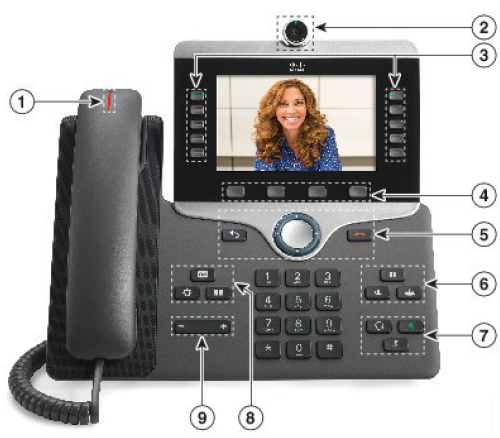 Feature
Description
1
Incoming call or Voice Mail Indicator

Flashing red light indicates whether you have an incoming call.
Steady red light indicates a new voice message.

2
Camera
Use the camera for video calls.
3
Line and Feature Buttons
Access to functions and services.
4
Softkeys
Access your phone lines, features, and call sessions.
5
Back, Navigation, and Release

Back - Return to the previous screen or menu.
Navigation ring and Select button - Scroll through menus, highlight items and select the highlighted item.
Release - End a connected call or session.

6
Hold, Transfer, and Conference

Hold - Place an active call on hold and resume the held call.
Conference - Create a conference call.
Transfer - Transfer a call.

7
Headset, Speakerphone, and Mute

Headset - Toggle the headset on or off. When the headset is on, the button is lit.
Speakerphone - Toggle the speakerphone on or off. When the speakerphone is on, the button is lit.
Mute - Toggle the microphone on or off. When the microphone is muted, the button is lit.

8
Voice Mail, Applications, and Directory

Voicemail - Autodial your voice messaging system.
Applications - Access call history, user preferences, phone settings, and phone model information.
Directory - Access personal and corporate directories.

9
Volume

Adjust the handset, headset, speakerphone volume, and ringer volume when the phone is off the hook.
Resources
Cisco 8841 MPP Quick Start Guide
(PDF)