TV
Having problems with your TV signal or Picture? Did you know that most TV issues can be solved by using our in-home reset tool? Just sign-in, click the Reset button, and get back to watching the show. >> Reset My Cable Box
Summary
Learn how to access Cox Connect settings to choose a DVR for recording shows, to set privacy, and to troubleshoot the application.
Solution
Follow these steps to access and use Cox Connect settings.

Note: You must have a Cox.net account to use Cox Connect.
Tap the Menu icon.




Tap Settings.


Result: Options for setting Digital Receivers, Troubleshooting, and Usage Sharing display.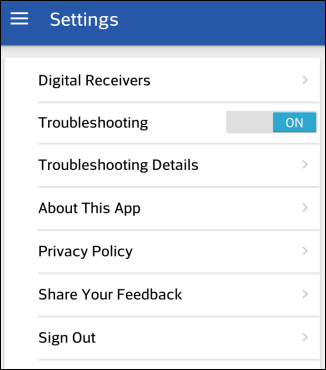 Settings Option
Usage
Digital Receiver

You can set the following options:

Set Default: Set the default receiver.
Show/Hide: Decide which receivers to show or hide.

Troubleshooting

Monitor your actions while using the application to help find solutions with any problems or errors you may experience while using the Cox Connect application.
 

To allow monitoring of your application, for Troubleshooting, tap ON.