TV
Having problems with your TV signal or Picture? Did you know that most TV issues can be solved by using our in-home reset tool? Just sign-in, click the Reset button, and get back to watching the show. >> Reset My Cable Box
Selecting Audio Settings for a Non-Contour DVR Cable Box
Last Updated: Mon, 31 Oct 2016 > Related Articles
Summary
Learn to change your audio settings.
Solution
1
Press the SETTINGS button on the remote, then press the A button.
2
Use the arrow buttons to scroll to the Audio/Video preference and press SELECT.
3
Highlight the Audio Digital Output option and press SELECT.
4
Highlight either Dolby Digital, Two Channel Only, or HDMI and press SELECT.
 
See Audio Settings Explained below.
Audio Settings Explained
There are 3 Audio settings to choose from.
Two Channel Only
Dolby Digital
HDMI
 
Note: This option appears only if the DVR cable box is connected to your system using the HDMI cable.
Select one of the following.
Dolby Digital - If you have a TV or unit that can receive and decode Dolby Digital AC3 surround sound, select this setting. Use either the Digital Audio, SP/DIF, or Optical Audio port on the back of the DVR.
Two Channel Only - If you want Left and Right (L / R) stereo or 2-channel Prologic digital audio from an RCA Digital Audio or Optical port.
HDMI - If the DVR is connected to the TV using the HDMI cable. HDMI delivers digital stereo. Note: If you keep the HDMI connected, you can still set up either the Two Channel Only RCA / Optical audio cables and setting, or the Dolby Digital RCA / Optical cables and setting. When set up, the Two Channel Only or Dolby Digital cable connections and Audio setting simply disable the audio portion of the HDMI stream.
RCA and Optical Audio OUT Ports on a Cable Box

The image below shows the back of a cable box. The red boxes show the RCA and Optical Audio Out connections.
On the back of the box are the following ports.
Three sets of stereo L / R (Left / Right) audio out ports - They use audio cable connectors called RCA.
One Digital Audio Out port - It uses a special digital coax cable with an RCA type plug.
One Optical Audio Out port - It uses an optical audio digital cable and connector.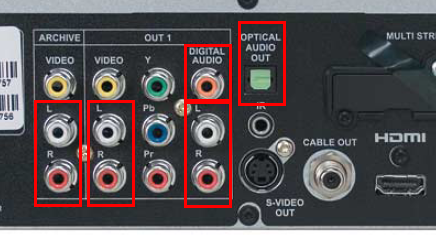 Notes:
The ports are grouped.
The first column labeled ARCHIVE has three ports below it: Video, Left (L) and Right (R). Together these are a set.
The next section, labeled OUT 1, has nine ports under it. The Video port could also use the other audio L / R or Digital Audio ports in the section. The HDTV (Y /Pb / Pr) video could use any of the audio ports in the section.
The Optical Audio Out port can be used with either the Video or Y / PB / Pr ports in the OUT 1 box.