TV
Having problems with your TV signal or Picture? Did you know that most TV issues can be solved by using our in-home reset tool? Just sign-in, click the Reset button, and get back to watching the show. >> Reset My Cable Box
Summary
Learn how to sign in and create a Forum Identity the first time you use Cox Support Forums.
Solution
The Cox Support Forums is where customers can collaborate with each other to resolve issues they may be experiencing. To access the Support Forums, click the button below.
 
All Cox customers are automatically granted access to the Support Forum; however, when you first sign in you must create a profile so other users can identify you. Use the steps below to create your Forum Identity.
2
On the top right-hand side of the page, click
Join the Discussion
.

3
Enter your Cox.com
User ID
and
Password
, then click
Sign In
.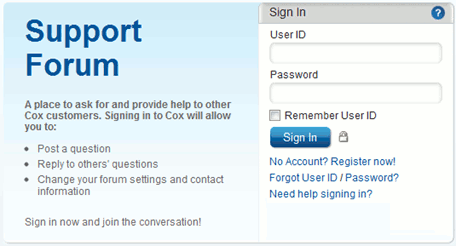 4
 Once you are signed in, enter the following information to create a Forum Identity.
Forum Name - This name is attached to all of your forum posts and replies. For privacy reasons, we discourage you from using your actual name. Enter a nickname or another name you like.
Forum Email - You can choose to have Cox Support Forum notify you when a certain activity occurs. These notifications are sent to the email address you enter here. Notifications can be turned off at any time.
Confirm Email - Enter the email address again to confirm.
After reading the Terms and Conditions, which can accessed by clicking the provided link, check the I accept the Terms & Conditions box.
Note: You can also add an avatar at this time to represent your forum identity, but it is not required. For privacy reasons, we discourage you from using an image of yourself.