TV
Having problems with your TV signal or Picture? Did you know that most TV issues can be solved by using our in-home reset tool? Just sign-in, click the Reset button, and get back to watching the show. >> Reset My Cable Box
Summary
Learn how to change your current password online to a new password.
Solution
Your Cox.com password is used with your User ID to log in to personalized Cox webpages, such as View/Pay Bill, WebMail, Phone Tools, Internet Tools, and Account Settings.
To change your password, follow the steps below.
Go to www.cox.com.
Click My Account at the top of the homepage.


Sign in with your User ID and Password.

Note: If you can't remember your password, click the Forgot User ID / Password? link next to the Sign In button.

Click My Profile.

Click the Edit to the right of Password.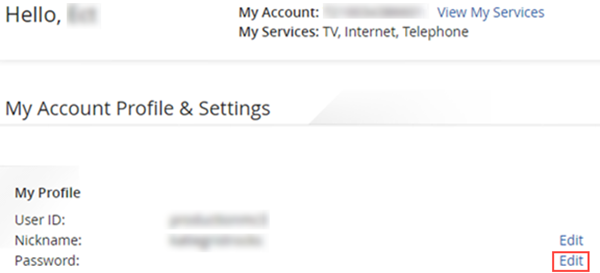 Note: If you are in the process of transferring your services, you will receive an error message and will be unable to change your password until the transfer is complete.
 
Enter your current Password.
Enter a new Password.
Re-enter the new Password.
Click Continue.