TV
Having problems with your TV signal or Picture? Did you know that most TV issues can be solved by using our in-home reset tool? Just sign-in, click the Reset button, and get back to watching the show. >> Reset My Cable Box
Summary
Learn how to access and use the Data Usage Meter to see your monthly data plan and usage.
Solution
Cox offers a Data Usage Meter to Cox High Speed Internet customers that provides an easy way to check your monthly household Internet data usage at any time. Data usage is the amount of data, such as images, movies, photos, videos, and other files, that you send, receive, download, or upload each month. Cox measures total data usage and does not monitor specific customer activities to determine data usage. To learn more about data usage, visit www.cox.com/datausage.

Note: Gigablast usage does not currently display in the Data Usage Meter.
 
You can also access your Data Usage Meter from the Cox Connect app. See Checking Your Data Usage with Cox Connect for more information.
1
In a web browser, go to www.cox.com, then click Sign In My Account.
Under the MyTools column, click Data Usage Meter.

 
 
You can also access the meter directly at www.cox.com/internet/mydatausage.cox.
2
Enter your primary User ID and Password, then click Sign In.

Notes:
If you do not remember your password, click the Forgot User ID / Password? link.
You can also sign in using a secondary User ID authorized to access your account billing.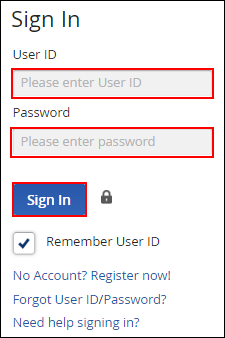 3
Review your data usage using the following graphs. Your data usage displays in blue; any overages display in red.

Usage by Modem
This graph displays the usage period date range with date that data was collected. It also includes the following information.
Your monthly data plan
How much data has been used within your current usage period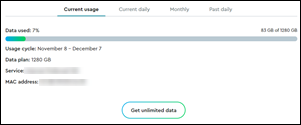 Data Usage Over Time
You can click the Monthly, Current Daily, and Past Daily buttons to view how your usage displays over time.
Monthly displays your data usage by month.
Current Daily displays your data usage by day in your current data usage period.
Past Daily displays your data usage by day from the most recently closed usage cycle.

To view data usage details for multiple modems, select the desired modem MAC address from the drop-down menu.