Phone
Did you forget your voice mail password? How about problems with the fax machine? Going on a trip and need to manage call forwarding? Whatever your question, we make sure our digital telephone support has the answers.
Returning Calls Or Text With Cox Connect
Last Updated: Tue, 18 Oct 2016 > Related Articles
Summary
Learn to return calls and texts on an iPhone, iPod Touch and Android.
Solution
Using the Cox Connect app, you can access the Home Phone feature to review your home phone call history. The numbers in your history log can be used to make phone calls and send texts via your mobile phone service.
 
Important: Be sure to install the Cox Connect app on your smart phone or other mobile device before you begin.
1
Launch the Cox Connect app.
Sign in with your User ID and Password. If you haven't already created a User ID and Password, go to Cox.com and click Register at the very top of the screen.
Under the Phone Tools section of the Home screen, tap the Calls icon.


2
Tap the desired phone number from the
All Calls
default list, or tap
Missed Calls
at the top of the screen to access another set of numbers. If you choose
Voice Mail
you get the option to play the voicemail.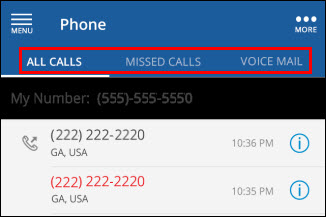 Note
: Returning long-distance phone calls using Cox Voice Mail functionality will result in Cox long-distance charges being assessed, including calls made from customers with Toll Restrictions on their Cox account.
3
Tap Call or Send Message.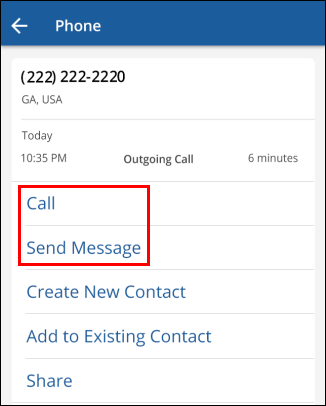 Either the phone number will dial or a text message screen will display allowing you to create your text.
 
Note: If you are using a tablet you will not see these options.