Internet
Having problems with your Internet Connection? Did you know that most Internet connectivity issues can be solved by using our Modem Reset tool? Just sign-in, click the Reset button, and get back browsing the Web. >> Reset My Modem
Clearing Your Browser in Internet Explorer 10 for Windows 8
Last Updated: Tue, 04 Oct 2016 > Related Articles
Summary
Learn to clear cache, temporary files, browse history, and delete cookies in Internet Explorer.
Solution
Want to clear your cache, browse history, cookies, or temporary Internet files? Learn how to do so in Internet Explorer 10 using the steps below. For all PC browser-related articles, see Managing Your PC Browser.
 
Cox does not support all browsers. The following information is for reference only. For specific information on using Internet Explorer, visit Microsoft.com.
1
From the Start screen, move your cursor to the top right corner of the computer screen or press the Windows + C keys to display the Charm Bar.
Click the Search icon.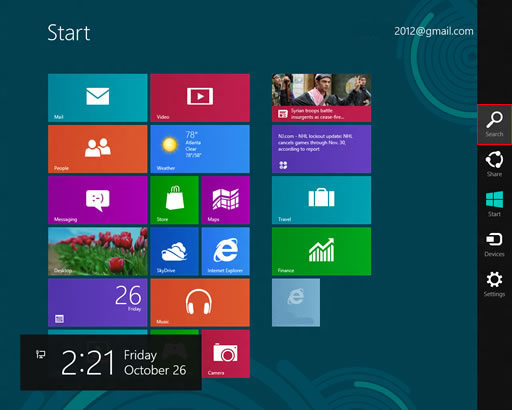 2
On the Apps screen, press the Esc key to hide the Charm Bar.
Under the Windows System section, click Control Panel.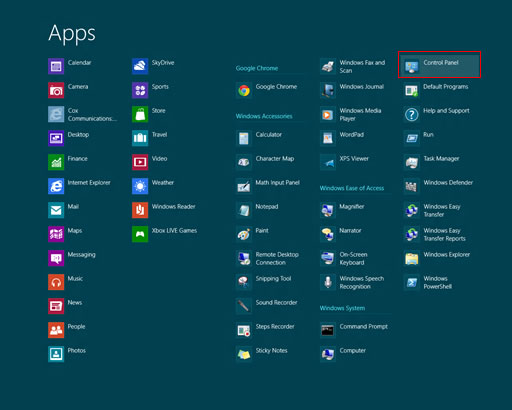 3
Click
Internet Options
.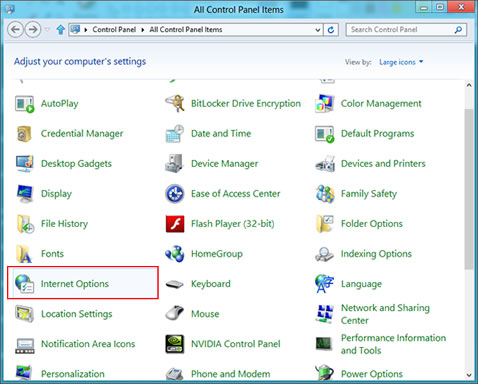 4
From the General tab, click Delete.
5
From the Delete Browsing History window, place a check in the box next to each item you want to clear.
Temporary Internet files and website files - Clears copies of webpages, images, and media that are saved for faster viewing.
Cookies and website data - Clears files or databases stored on your computer by websites to save preferences or improve website performance.
History - Clears the list of websites you have visited.
Download History - Clears the list of files you have downloaded.
Form data - Clears the saved information that you have typed into website forms.
Passwords - Clears saved website passwords that are automatically filled in when you sign in to a website you have previously visited.
ActiveX Filtering and Tracking Protection data - Clears the list of websites excluded from filtering, and data used by Tracking Protections to detect where websites might be automatically sharing details about your visit.

Note: By checking the Preserve Favorite website data box, data from your most frequently visited websites is not cleared. If you are clearing your history, cookies, or cache to resolve a problem with a website you visit frequently, uncheck this box.
6
Click Delete to complete the process.