Internet
Having problems with your Internet Connection? Did you know that most Internet connectivity issues can be solved by using our Modem Reset tool? Just sign-in, click the Reset button, and get back browsing the Web. >> Reset My Modem
Summary
Learn about the available ports and an explanation of the status lights on the ARRIS / Surfboard SB6183 cable modem.
Solution
Installation 
For installation instructions, refer to the following articles.
This device is also available in black.
The ARRIS / Surfboard SB6183 is a DOCSIS 3.0 device offering 16 x 4 channel bonding.
Front View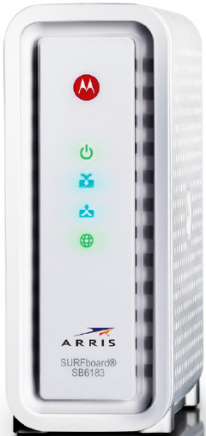 After the cable modem is successfully registered on the network, the POWER, RECEIVE, SEND, and ONLINE indicators illuminate continuously to indicate that the cable modem is online and fully operational. For more details, refer to the Modem Lights section.
Modem Light
Status
Problem
Solution
POWER

Off
No power
Verify all cable connections and try resetting the modem. If cable is OK and modem reset does not work, contact Customer Support.
Solid Green
None
N/A

RECEIVE

Flashing
Scanning for downstream channel
Verify all cable connections and try resetting the modem. If cable is OK and modem reset does not work, contact Customer Support.
Solid Green
None - connection from the computer to the Internet established on one channel
N/A
Solid Blue
None - operating on more than one channel (downstream bond mode)
N/A

SEND

Off
Upstream channel inactive
Verify all cable connections and try resetting the modem. If cable is OK and modem reset does not work, contact Customer Support.
Flashing
Scanning for upstream channel
Verify all cable connections and try resetting the modem. If cable is OK and modem reset does not work, contact Customer Support.
Solid Green
None - connection from the Internet to the computer established on one channel
N/A
Solid Blue
None - operating on more than one channel (upstream bond mode)
N/A

ONLINE

Off
No connection
Verify all cable connections and try resetting the modem. If cable is OK and modem reset does not work, contact Customer Support.
Solid Green
None - operational
N/A
Flashing
None - scanning for configuration parameters
N/A