Internet
Having problems with your Internet Connection? Did you know that most Internet connectivity issues can be solved by using our Modem Reset tool? Just sign-in, click the Reset button, and get back browsing the Web. >> Reset My Modem
Summary
Use these steps to deactivate McAfee Family Protection® on your computer.
Solution
As a Cox High Speed Internet customer, Cox Security Suite Plus powered by McAfee® is licensed for installation on up to five devices, and McAfee Family Protection® on up to three computers.

Note: As of September 22, 2015, McAfee Family Protection is no longer available to download for new users. Existing users can continue using the software.
2
Enter your primary account holder
User ID
and
Password
, then click
Sign In
.
Note
: If you do not remember your password, click the
Forgot User ID / Password?
link.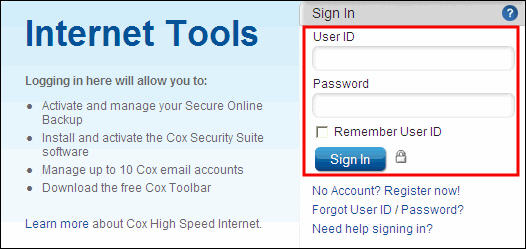 3
Click Manage to access McAfee Family Protection options.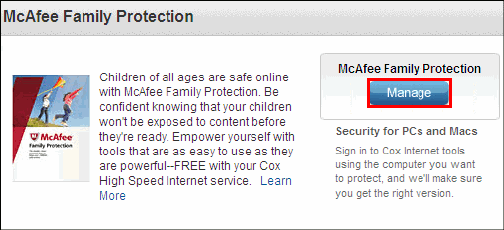 If you see Activate instead of Manage, you have not yet activated and installed McAfee Family Protection on your computer. See Activate Cox Security Suite Plus for instructions.
4
Click
Deactivate McAfee Family Protection
.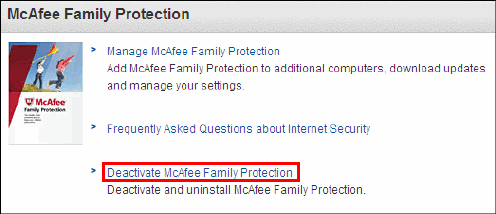 5
Click
Deactivate
.

6
After deactivating McAfee Family Protection, a confirmation message displays with instructions on how to uninstall McAfee Family Protection.
 
Deactivating is not the same as uninstalling. You must also uninstall the software once deactivation is complete.
7
Choose one of the following to complete the uninstall process.