Internet
Having problems with your Internet Connection? Did you know that most Internet connectivity issues can be solved by using our Modem Reset tool? Just sign-in, click the Reset button, and get back browsing the Web. >> Reset My Modem
Searching for Email Messages in Classic WebMail
Last Updated: Mon, 06 Feb 2017 > Related Articles
Summary
Learn how to search for email messages in Classic WebMail.
Solution
This support article helps you get the most from Classic WebMail. Before beginning, make sure you are signed in.
Go to webmail.cox.net.
Enter your User ID and Password.
Click the Classic WebMail radio button.
Click Sign In.
Classic WebMail Inbox
After you sign in to Classic WebMail, your Inbox displays in the following format.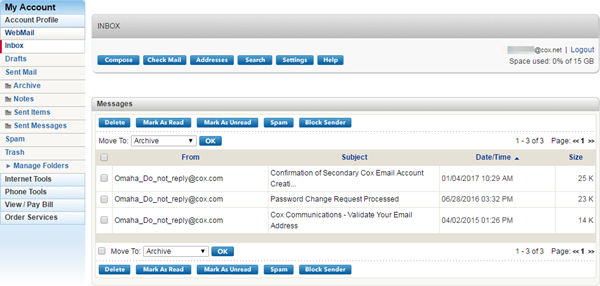 Not what you're looking for? Get the support you need by visiting our Cox Email Support Center.

Searching for Messages
Looking for a particular message in your Inbox? Find it faster using the Search feature in Classic WebMail.
1
From the WebMail Inbox, click Search.


2
In the Search for: field, enter a word or phrase to help you find the message, such as the sender's name.
Choose from the following search options for where the search looks for that word or phrase.

Subject field
From field
To field
Message body

Place a check in the Match Case box to search using matching upper and lower case letters with your search word or phrase.

Note: If you enter "Bob" in the Search for: field and check the Match Case box, the search finds "Bob" but not "bob."
 
In the Search in: fields, place a check by each folder in which you want to search. To search all the folders, place a check in the Search all folders box.

Note: You must choose a folder in order to obtain results.
 
Click OK.



Results:

If email messages are found that meet the criteria of your search, they display in the Search Results window.
If no email messages are found, the Search Results window displays No Messages. To refine your search, click Search again.