Internet
Having problems with your Internet Connection? Did you know that most Internet connectivity issues can be solved by using our Modem Reset tool? Just sign-in, click the Reset button, and get back browsing the Web. >> Reset My Modem
Summary
Learn how to self activate your equipment online.
Solution
If you chose to self-install your Cox equipment you can go online to activate it. Simply follow the step-by-step instructions and you will be up and running in no time.
 
If you have any problems during the self-activation process call us at 888-556-1193 for assistance.
Self-Activate Your Cox Equipment
Check the following before you begin:
Ensure you have all the items in the self install kit.
Be sure to plug in your coaxial cables first, then plug in your power cords and other components. See your kit instruction sheet for details.
Access a Cox approved browser such as Firefox, Internet Explorer, or Safari.
Be sure the wireless capability on your computer is disabled. If not, you may have to reboot during the activation.
Self activation may work on iPad or iPhone but is currently not optimized to do so.

If you have a retail modem not supplied by Cox, find the following information from the modem and keep it handy:
Serial number
Retail MAC address
2
Choose your state from the drop down.
If applicable, choose your city.
Enter your phone number or the Work Order number.
Click Next.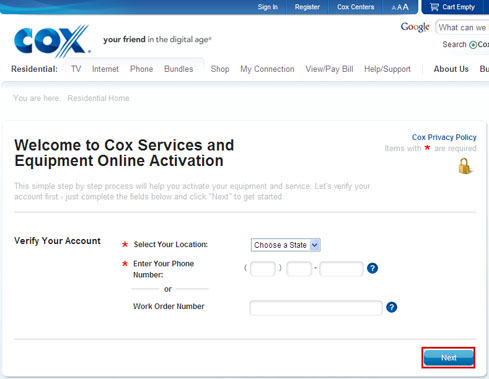 3
Read the information on the Welcome page.
Click Next.
4
Verify your personal information.
Enter your preferred email address so we can contact you later should you have any problems.
Verify your equipment.
Ensure that all your equipment has been installed, then check the box next to All my equipment is installed at my activation address.
Click the link to review the Cox Acceptable Use Policy, then check the box next to I Accept.
Click Activate.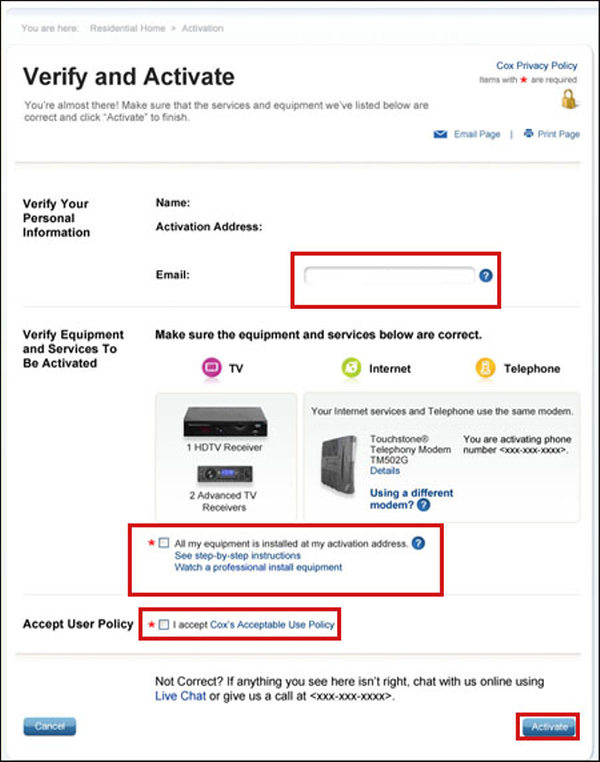 Result: You will notice the activation process begin and a progress bar displays.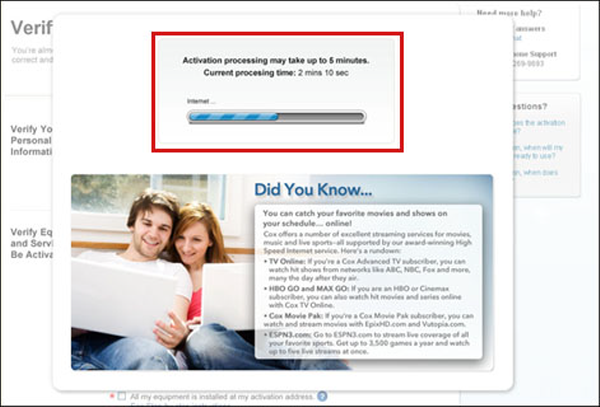 Activation can take as long as 30 minutes depending on your services. Do not navigate away from this page or close your browser during the activation process.
5
Once activation is complete you can click Register Now to take advantage of your online benefits.