Internet
Having problems with your Internet Connection? Did you know that most Internet connectivity issues can be solved by using our Modem Reset tool? Just sign-in, click the Reset button, and get back browsing the Web. >> Reset My Modem
Creating Address Groups in Classic WebMail
Last Updated: Mon, 06 Feb 2017 > Related Articles
Summary
Learn how to create email address groups in Classic WebMail, otherwise known as distribution lists.
Solution
This support article helps you get the most from Classic WebMail. Before beginning, make sure you are signed in.
Go to webmail.cox.net.
Enter your User ID and Password.
Click the Classic WebMail radio button.
Click Sign In.
Classic WebMail Inbox
After you sign in to Classic WebMail, your Inbox displays in the following format.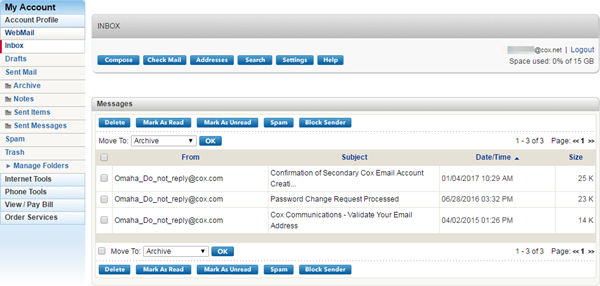 Not what you're looking for? Get the support you need by visiting our Cox Email Support Center.

Creating Address Groups
Address groups provide a convenient method of sending an email message to a group of recipients without typing each individual's address or finding and selecting each contact from Addresses.
1
From the WebMail Inbox, click Addresses.
Under Addresses: All, click New Group.


2
From the New Group window, enter a name for your address group in the Name field.
In the Description field, enter a description that helps you remember who is in the address group, or what the contacts have in common.


3
Under Group Members, select the desired Contact to add to the new group. To select multiple contacts at once, press the CTRL key for Windows, or the Command key for Mac OS, while clicking on each name.

Note: If no contacts display under Contacts, they cannot be added to a new contact group. The contacts must already exist in Addresses.
 

Click Add.


 
Click OK.

Result: A message displays stating the group has been created.

Note: To remove a contact from the group, select the contact in the Members field and click Remove.