Internet
Having problems with your Internet Connection? Did you know that most Internet connectivity issues can be solved by using our Modem Reset tool? Just sign-in, click the Reset button, and get back browsing the Web. >> Reset My Modem
Adding Email Accounts in Enhanced WebMail
Last Updated: Mon, 06 Feb 2017 > Related Articles
Summary
Learn how to add an external account in Enhanced WebMail.
Solution
This support article helps you get the most from Enhanced WebMail. Before beginning, make sure you are signed in.
Go to webmail.cox.net.
Enter your User ID and Password.
Click the Enhanced WebMail radio button.
Click Sign In.
Enhanced WebMail Inbox
After you sign in to Enhanced WebMail, your Inbox displays in the following format.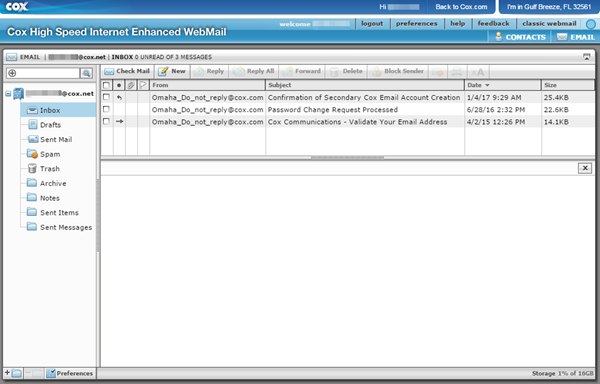 Not what you're looking for? Get the support you need by visiting our Cox Email Support Center.

Adding External Email Accounts
Use Enhanced WebMail to send and receive email messages from your external email accounts. Add up to 12 additional email accounts using the steps below.
1
From the
WebMail Inbox
window, click
Preferences
.

2
On the
Mail Preferences
window, click
Add Account
.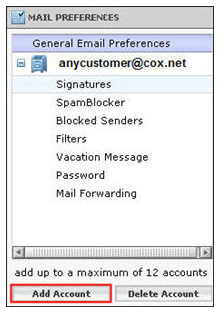 .
3
Enter the email address and password of the external email account.
Depending on the external email account settings, choose POP or IMAP. If you are adding a Cox email address, refer to Email Server Names for more information.

Note: Refer to your external email account support website for more information on which option to select.
 
Click Continue.


4
Enter the Incoming Server Name information.

Note: A Port number is automatically added for a secure connection. Cox does not recommend choosing None.
 
Click Continue.



Result: A Testing Connection window displays.
5
The connections test succeeds or fails.
If the connections test is successful, a confirmation message displays. Click Continue.
If the connections test fails, click Continue. The Connecting To Your Account window displays so you can re-enter and test the correct settings.
6
On the Connection Successful window, enter the following information.

Enter Real Name to display a name on your outgoing email messages.
Enter a Reply to Address if it is different from the sending email address.

Click Save.
7
Click Close.

Result: The new account mailbox displays below the main account mailbox in the Mailbox Folders area.