Internet
Having problems with your Internet Connection? Did you know that most Internet connectivity issues can be solved by using our Modem Reset tool? Just sign-in, click the Reset button, and get back browsing the Web. >> Reset My Modem
Managing Your Privacy Settings on Cox.com
Last Updated: Wed, 29 Mar 2017 > Related Articles
Summary
You can manage your privacy settings online including your Digital TV viewing information and Telephone service information.
Solution
Cox provides quality services and offerings and at times may collect certain information in order to provide a more personalized experience.
Digital TV viewing information: We gather TV browsing and viewing information to help develop TV service features and to provide more relevant advertising.
Telephone service information: We view the phone services you subscribe to in order to provide the offers and recommendations for the best service for your needs.
If you choose to not participate in any of these options, you can manage your privacy settings on Cox.com by following the steps below. You can also view our Privacy Notice at http://www.cox.com/aboutus/policies/annual-privacy-notice.cox.
1
In a web browser, go to www.cox.com.
Click Sign In My Account.
Enter your primary User ID and Password, then click Sign In.

Note: You must log in as the primary Account Holder to edit your Privacy Preferences.
2
Click View My Profile.
From the My Profile page, click the Password & Security tab.
3
Next to Privacy Preferences, click Edit Preferences.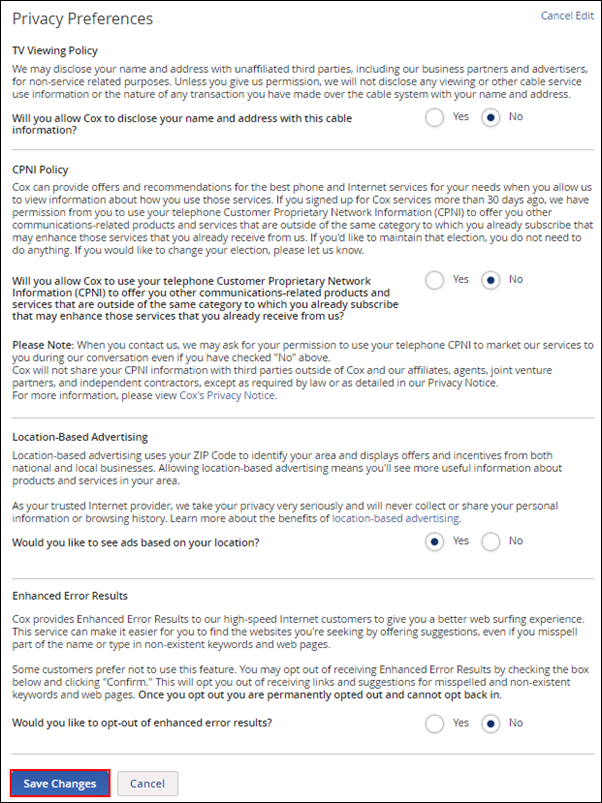 4
Update your desired settings, then click Save Changes.

Result: A green confirmation message displays.