Internet
Having problems with your Internet Connection? Did you know that most Internet connectivity issues can be solved by using our Modem Reset tool? Just sign-in, click the Reset button, and get back browsing the Web. >> Reset My Modem
Adding Email Accounts in Classic WebMail
Last Updated: Mon, 06 Feb 2017 > Related Articles
Summary
Learn how to read email from an external account while in Classic WebMail.
Solution
This support article helps you get the most from Classic WebMail. Before beginning, make sure you are signed in.
Go to webmail.cox.net.
Enter your User ID and Password.
Click the Classic WebMail radio button.
Click Sign In.
Classic WebMail Inbox
After you sign in to Classic WebMail, your Inbox displays in the following format.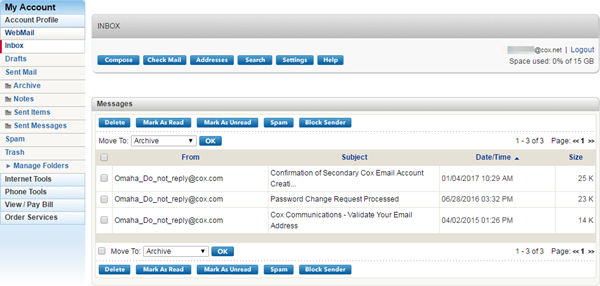 Not what you're looking for? Get the support you need by visiting our Cox Email Support Center.

Adding External Email Accounts
Want to read email messages from an external email address while in Classic WebMail? You can import those messages by following the steps below.
1
From the WebMail Inbox, click Settings.
2
Click
External Email
.

3
Click
New Email Source
.

4
Enter the following information about the external email account.
Full Name - This will be your identity when you reply to an email sent to this account.
Full Email Address - This will be your 'from' address when you reply to an email sent to this account.
Account Description - Enter a description of this account.
Mail Server - Enter the name of the mail server you want to access, such as pop.yahoo.com.
Username - Enter the account name on the mail server you specified. For example, if the account is bob@cox.net, enter "bob."
Password - Enter the password for the account name.
Mail Server Type - Indicates the account is a POP, SSL POP, or IMAP account. Click Show Server Options for more options.
To test your settings, put a check in the box next to Test this entry to make sure it works. This may take some extra time to update.
5
Click OK.

Result: A button named Check External Mail appears on your Inbox menu bar.