Internet
Having problems with your Internet Connection? Did you know that most Internet connectivity issues can be solved by using our Modem Reset tool? Just sign-in, click the Reset button, and get back browsing the Web. >> Reset My Modem
Creating an Additional Cox Email Address Using Internet Tools
Last Updated: Thu, 06 Oct 2016 > Related Articles
Summary
With Cox High Speed Internet service, you can add additional email addresses to your account. Use these steps to add additional email addresses using Internet Tools.
Solution
2
From the Cox.com home page, click My Connection, then click Internet Tools.
3
Enter your primary User ID and Password, then click Sign In.
 
Note: You must log in as the primary Account Holder to create or modify an Authorized User.
4
Under My Account located on the left navigation bar, click Email.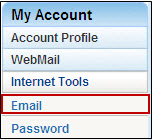 Result: The Email window displays the email addresses associated with your Cox High Speed Internet account.
5
Click Add new email address.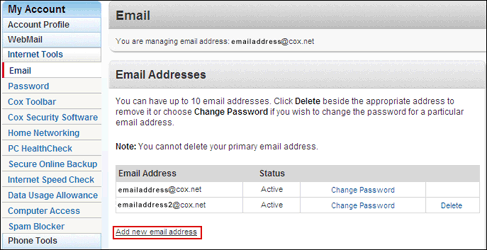 Result: The Authorized Users window displays.Adding a new Authorized User creates a new email account.
6
Select Add an additional Authorized User, then click Add.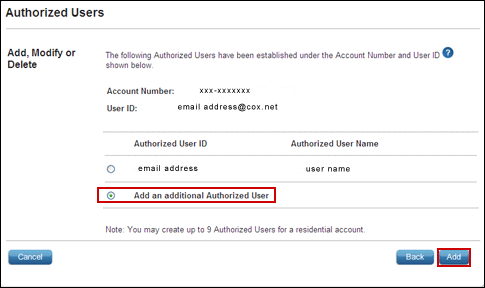 7
Complete the following fields.

First Name - Enter the first name of the user.
Last Name - Enter the last name of the user.
User ID Nickname - Enter a nickname for the user ID. This step is optional.
User ID - Enter a user ID. Click the ? for guidelines.
Recovery Email Address - Enter a non-Cox.net email address. Click the ? for more information.
Password - Create a password and re-enter the password. Click the ? for guidelines.

Note: A password strength meter shows the security of the new password you select.
 
Secondary User Permissions - Place a check in this box to grant an Authorized User the same access to the account billing and payment areas as the Account Holder. For more information, see Understanding Digital Identities and Account Types.
Challenge and Response - Enter the security code in the space provided.

Click Submit.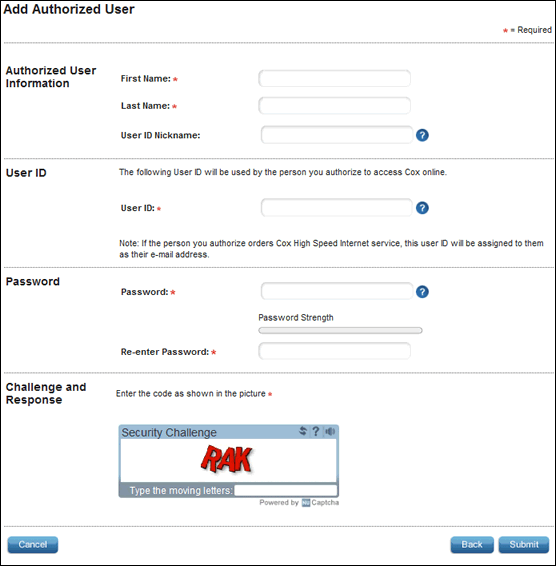 Result: A confirmation window displays the changes and a confirmation email or letter is sent.
8
Click Continue.
 
Result: The Authorized Users window displays the list of Authorized Users, including the one just created.