Internet
Having problems with your Internet Connection? Did you know that most Internet connectivity issues can be solved by using our Modem Reset tool? Just sign-in, click the Reset button, and get back browsing the Web. >> Reset My Modem
Summary
Service Appointments allow Cox customers to view and manage their scheduled appointments on Cox.com. Learn how to manage your service appointments online.
Solution
1
Log in to Cox Connect using your smartphone or other mobile devices.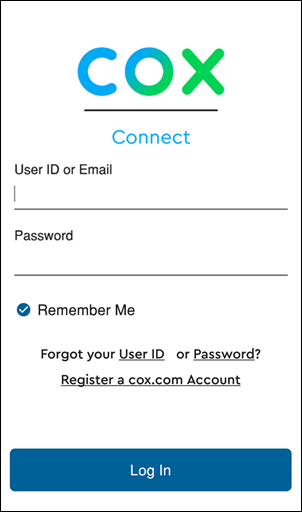 2
From the Home screen, select Manage Appointment.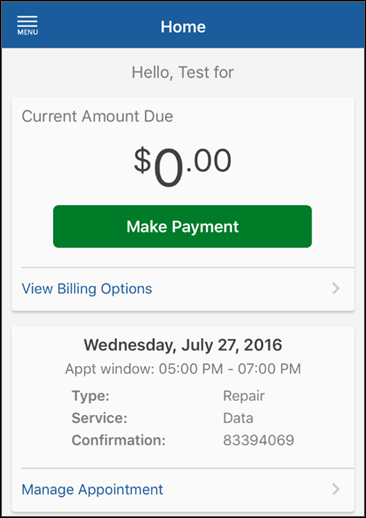 3
From Upcoming Service Appointment, you can select to Reschedule Appointment or Cancel Appointment.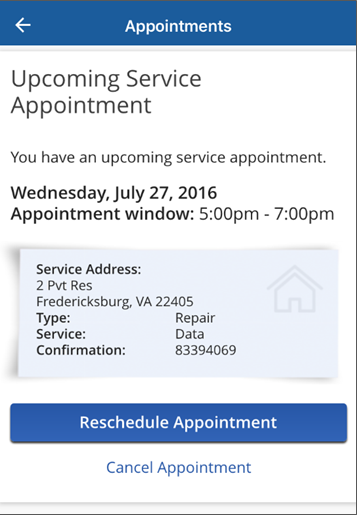 Managing Your Service Appointment from Cox.com 
Use the following from the My Account home page or the My Services home page to cancel, reschedule, or view service appointment online.
Access Service Appointment

Go to www.cox.com.
Click Sign In My Account. 
 Click Manage Appointments.

Result: The My Account Sign In page displays.


Sign in using your Cox User ID and Password.


Result: The Service Appointments page displays. In the upper right corner, there is a gold star burst icon which displays how many service appointments you have.
Cancel a Service Appointment

Important: Installation appointments cannot be canceled online. Contact us for assistance. To cancel a service appointment, follow these steps.
 
On the Service Appointments page, click Cancel Appointment.

On the confirmation window, click Cancel Appointment.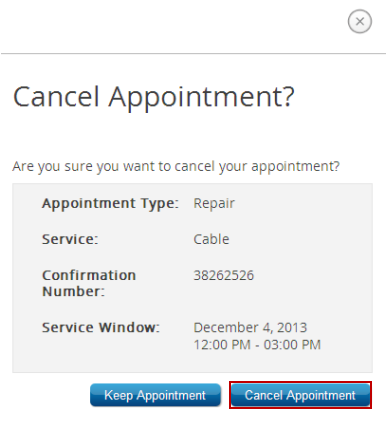 Reschedule a Service Appointment
 
On the Service Appointments page, click Reschedule Appointment.

Choose the date and time you want for the new appointment by clicking the listed time.

Result: Your selection is highlighted in blue.
 
Click Finish.
Result: The new appointment displays in a confirmation window.