Internet
Having problems with your Internet Connection? Did you know that most Internet connectivity issues can be solved by using our Modem Reset tool? Just sign-in, click the Reset button, and get back browsing the Web. >> Reset My Modem
Summary
View an explanation of your bill, including due dates, balances, amount due, and itemized charges that appear on your bill.
Solution
Your Cox Bill statement is designed to provide you important information at the forefront for the most efficient and effective way to follow your bill.
 
Note: For instructions on how to pay your Cox bill, refer to Ways to Pay Your Bill.
Summary Page
The Summary Page of your Cox Bill provides key details regarding your account right on the first page.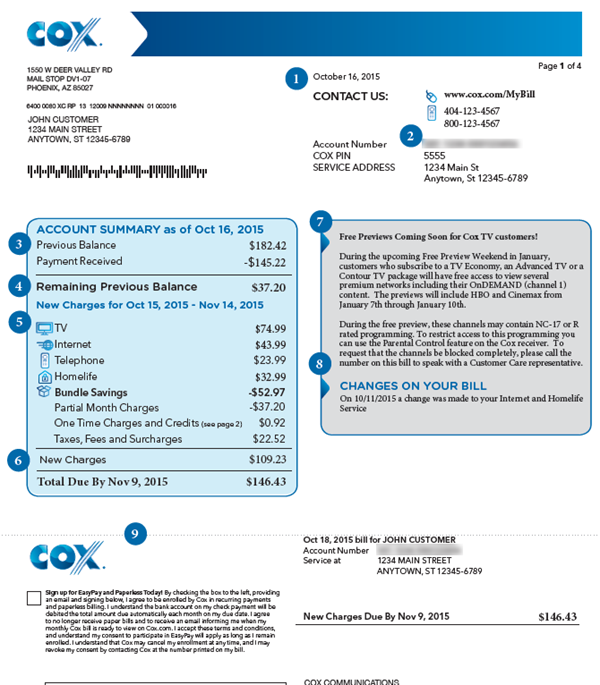 Refer to the following table to determine the description of each numbered section on the Summary page image above.
 
Number
Description
1
Indicates the date your Cox Bill was printed.
2

Includes important account details such as your account number and Cox Pin.

Note: Your Cox Pin is used to access your account when you chat with us online, create your Cox.com account, or call us for support.

3

Your previous balance and any payments received since your last bill.
The previous balance is the total balance due when your last bill printed, and does not include any changes you may have made since then.

4

The remaining previous balance is the previous balance due, less any payments or customer service adjustments made to your account.
This amount does not include any credits applied to your account as a result of a change in your service.

Note: If you made a change in your service or received a credit since your last bill, credits may appear in the New Charges section and your bill will reflect a remaining previous balance.

5

New charges include a summary of transactions since your last bill.
This may be TV, Internet, Homelife, or Telephone Service, any Bundle Savings you receive, One Time Charges, such as installation fees or service appointments, and charges or credits for a Partial Month of service when a change is made.

6

This is your total charges section.
A summary of the new charges, due date, and total due are listed here.

7

Important information such as upcoming previews, TV lineup changes, and other news are located in this section.
Longer messages will continue in the News from Cox section of your bill.

8
Changes on your bill will include a reminder of recent upgrades or downgrades in service or when a Service Agreement expires on your account.
9

This is your payment coupon.
This coupon provides you a quick snapshot of your Account Information, including Service Address, Charges Due, and Due Date.
You can utilize this coupon to make your payment at a retail kiosk, or mail it in with a check.
Additional Bill Pages
The additional pages within your Cox Bill provide more detailed information around the services you subscribe.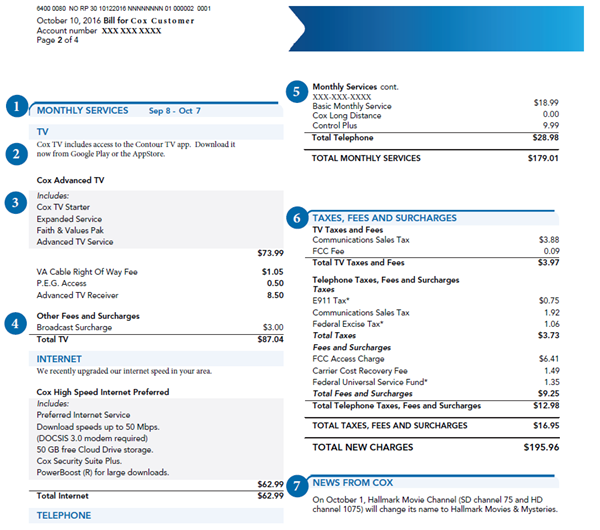 Refer to the following table to determine the description of each numbered section on the Additional Bill Page image above.
 
Number
Description
1

This is your Monthly Services section.
It includes the details of charges that you will see every month, unless you make a change in your service.
Services such as Cox Homelife, Contour TV, or Cox High Speed Internet display here.

2

Underneath the service title, a message displays to provide important details specific to that individual service.
This may include details around a change in the service we are providing, such as the channels we offer, or an increase in the speed of our Internet service.

3

Here is where you can see the details of what is in your package.
Each individual service displays the features of the package you receive.

4

Other Fees and Surcharges are included within the TV section of your Cox Bill.
These fees and surcharges are imposed by Cox and not a government required Charge, Tax, or Fee.
The fees and surcharges are separate from other TV charges to make it clear for customers to understand what they're paying for and what is driving up the cost of TV service.

5
If you have Cox Digital Telephone service, your telephone number appears within the details of your Cox Bill.
6

Many Cox services are assessed federal, state, local taxes and fees.
Some states assess more taxes and fees than others.

7

Important information regarding your account, and the services we offer may display in the News from Cox section of your Cox Bill.
This is where any message that continues from the Summary Page displays.