Internet
Having problems with your Internet Connection? Did you know that most Internet connectivity issues can be solved by using our Modem Reset tool? Just sign-in, click the Reset button, and get back browsing the Web. >> Reset My Modem
Opting Out of Location-Based Advertising
Last Updated: Fri, 14 Apr 2017 > Related Articles
Summary
Learn how to opt out of location-based advertising through My Account.
Solution
Cox provides location-based advertising to its users to provide a personalized experience while surfing the Internet. To opt out of location-based advertising, complete the following steps.
1
In a web browser, go to myaccount.cox.net/internettools/geooptout/geooptout.cox. 
On the My Account sign in page, enter your primary User ID and Password, then click Sign In.

Notes:

If you do not remember your password, click Forgot User ID / Password?
You must log in as the primary Account Holder to manage your location-based advertising preferences.
2
On the Location-based Advertising Opt Out page, click the I wish to opt out of Location-based Advertising. radio button.
Click Submit.


3
On the confirmation page, click Confirm.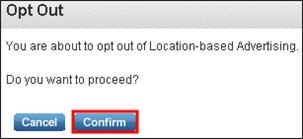 Result: The opt out of location-based advertising is complete. Click Return to Internet Tools.

Note: To opt in, follow the same steps as above and click the I wish to receive more relevant advertising based on my location. radio button.