Homelife Support
Learn how to protect, connect, and relax with support for your Homelife service. From arming and disarming your alarm, to managing your portal, Cox Homelife Support helps you with troubleshooting and step-by-step solutions.
Setting Cox Homelife Touchscreen to Automatically Dim
Last Updated: Thu, 27 Oct 2016 > Related Articles
Summary
Learn how to set the automatic dimming feature on the Cox Homelife touchscreen.
Solution
Follow these steps to set your touchscreen to automatically dim after a designated period of time.

Note: Once the screen has dimmed if it is touched, it brightens to the default brightness level.
 
1
From the touchscreen home screen, tap Settings.
2
Enter the Master Code to proceed to the Settings menu.
3
From the Settings menu, tap TouchScreen.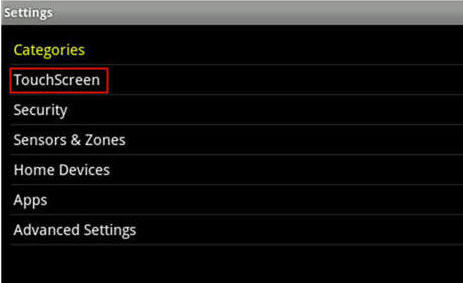 4
From the TouchScreen menu, tap Screen Configuration.
 
5
From the Screen Configuration menu, tap Automatic Screen Dimming.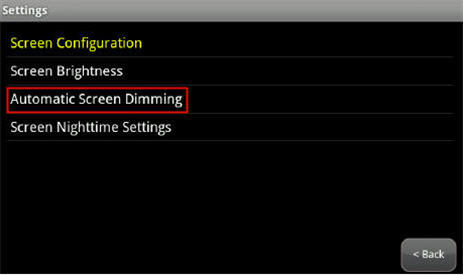 Result: A screen displays with Idle Timeout and Dimming Level controls.
 
6
The left
Idle Timeout
arrow decreases the time it takes for the screen to dim. The right
Idle Timeout
arrow increases the time it takes for the screen to dim. When the arrows are tapped, the time decreases or increases in five minute increments.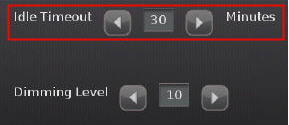 Note
: The default setting is
30
minutes, this is the maximum number of
Idle Timeout
minutes.
7
The left Dimming Level arrow decreases the brightness level for automatic dimming. The right Dimming Level arrow increases the brightness level for automatic dimming.

Note: The default Dimming Level is 10, this is the brightest setting.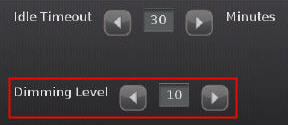 Note: To have the screen never dim due to inactivity, set the Dimming Level to 10. This also requires that the backlight off at night setting is No. See Setting the Cox Homelife Touchscreen to Night Mode for steps to set backlight off at night to No.
 
Suggested Homelife Topics