Homelife Support
Learn how to protect, connect, and relax with support for your Homelife service. From arming and disarming your alarm, to managing your portal, Cox Homelife Support helps you with troubleshooting and step-by-step solutions.
Replacing the Extended Range Key Fob Battery for Cox Homelife
Last Updated: Fri, 02 Dec 2016 > Related Articles
Summary
Learn how to replace the battery in your key fob to ensure your devices are working properly to arm and disarm your Cox Homelife system.
Solution
To replace the battery in your Cox Homelife extended range key fob, you need a CR2032 3-volt lithium battery. No tools are required to replace the battery. Follow the steps below to properly replace your extended range key fob battery.
1
Slide the battery cover to the left to open.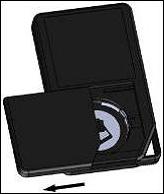 2
Locate and remove the CR2032 3-volt lithium battery.

Note: If present, use the clear plastic strip located under your battery to help lift the battery out.


Insert the new CR2032 3-volt lithium battery into the battery slot, with the positive side facing outward.
3
Replace the battery cover by sliding the cover to the right to close.
Suggested Homelife Topics