Homelife Support
Learn how to protect, connect, and relax with support for your Homelife service. From arming and disarming your alarm, to managing your portal, Cox Homelife Support helps you with troubleshooting and step-by-step solutions.
Managing Rules Contacts in the Cox Homelife Subscriber Portal
Last Updated: Tue, 23 May 2017 > Related Articles
Summary
Learn how to create and change designated contacts for Non-emergency notifications.
Solution
Non-emergency contacts must be set up for rule notifications. These rules are different from your emergency dispatch contacts which are notified in the event of an alarm. You can manage Non-Emergency contacts in the Cox Homelife Subscriber Portal using the steps below.
 
Refer to Setting Up Emergency Dispatch Contacts and Managing Rules in the Cox Homelife System for assistance with emergency contacts and rules set up.
2
Select More from the toolbar and click Contacts.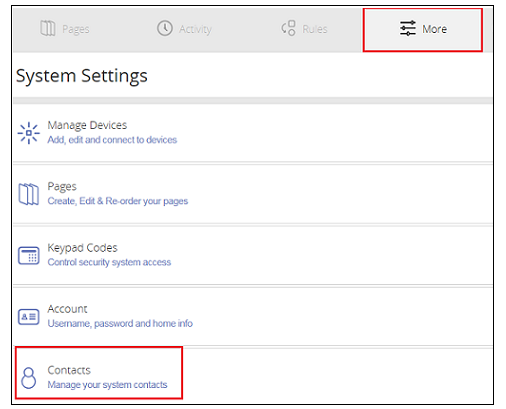 3
Follow the steps below to add a new Non-emergency contact.
Click the + icon.



 
Enter the contact information in the Add Contact window.
Click SAVE.
4
To edit existing contact information, click the
Pencil
icon.
Result
: The
Edit Contact
window displays.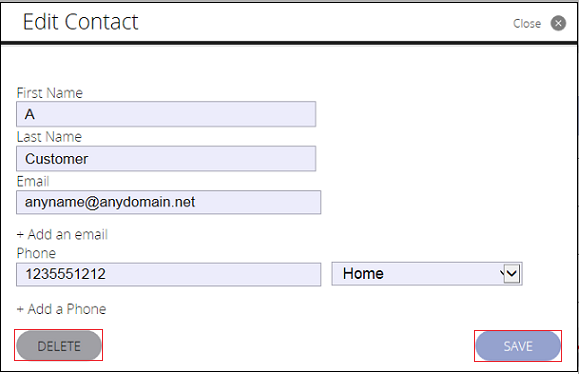 To modify the information, enter the changes, and click SAVE.
To remove the contact, click DELETE.
Notes:
Any person added as a Non-emergency contact is alerted for all rules created.
Contacts cannot be deleted if they are defined in a rule.
The person associated with the account is automatically added as a contact. This contact cannot be deleted from the list of contacts.
Suggested Homelife Topics