Billing & Account Support
Registering an Authorized User in My Account
Last Updated: Mon, 24 Oct 2016 > Related Articles
Summary
Learn to complete the registration process for an authorized user account on Cox.com with step-by-step screen shots.
Solution
Do you need help registering a new Authorized User? When a primary Account Holder creates a new Authorized User, that account needs registered on Cox.com. Follow the steps below to register, update, or change Authorized User information.
1
From the Cox.com home page, click Sign In My Account.
Under My Account click Profile & Settings.
 
2
Enter your authorized User ID and Password and click Sign In.
3
You can edit the following fields on the My Account Profile & Settings window.
Nickname
Password
Security Question

Note: You must enter a security question on the account for password reset and recovery purposes.

If the primary Account Holder enables the Authorized User access to manage Billing and Payment information, you can also edit the following fields. For more information on granting access to these areas, see Modifying an Authorized User in My Account.
Billing Address
Manage Payment Methods
Contact Information
4
Next to Security Questions, click Edit.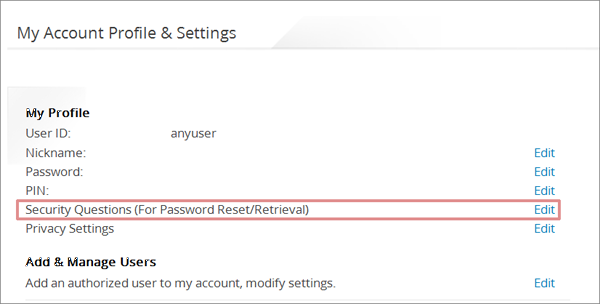 5
Click Register or Modify to continue to the Authorized User Registration window.
Select a Secret Question from the drop-down menu and enter the answer in the box for Secret Answer.
Enter your email address in the fields for Alternate Email and Re-enter Alternate Email.
Click Submit.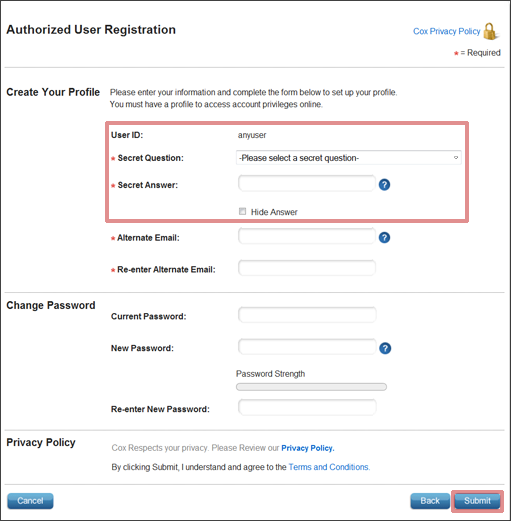 Note: You can also update your password in the Change Password section. To keep your current password, leave this section blank.
6
Read and follow the Confirmation window directions to validate your Authorized User registration and then click Continue.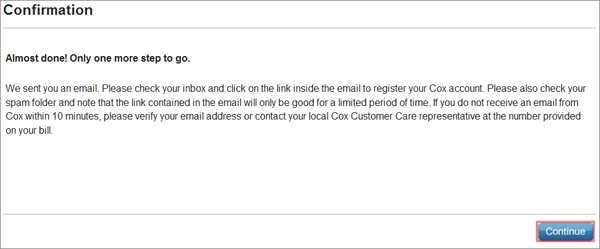 Result: The My Account Profile & Settings window displays.
Suggested Billing & Account Support Results Topics