Billing & Account Support
Summary
Learn to update your billing address on Cox.com by signing into View/Pay Bill.
Solution
Need to change your billing address on file with Cox? Learn how by following the steps below.
 
Your service address does not have to be the same as your billing address. Your service address is the street address where you receive Cox services. If you would like your bill sent to a separate address you can provide one to us.
 
Restrictions
For the Account Holder's protection, Authorized Users cannot change the billing address.
If the Account Holder has listed you on the account as an Authorized User, then you can make a payment. The following tabs will not display for the Authorized User: Recent Activity, View Statements, Bill Delivery Options, or View Bill Details.
1
Sign in to My Account with your User ID and Password.

2
Click the My Account Home icon to go to the My Account home page.
 
3
Click View Bill Details under the My Bill section.
 
4
Under the
Bill Summary
section, next to
Billing Address
, click
Update
.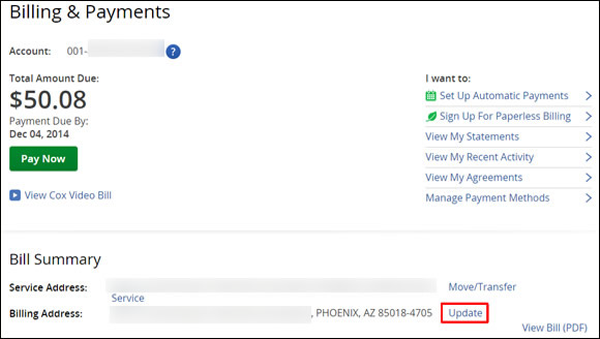 5
Select one of the folowing:
If you want your service address and billing address to match, click Same as Service Address.
If you want the bill to be mailed to an address other then the service address, click Use a Different Address and enter the name and address where you want the bill mailed.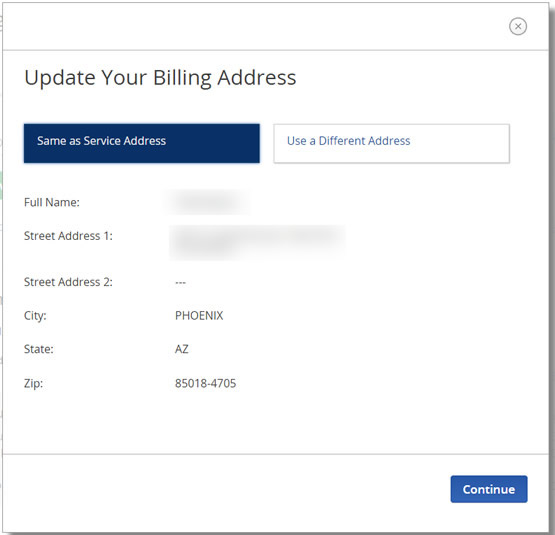 6
Click Continue.
 
Result: A confirmation page displays showing the address change was successful. We also email you a confirmation message titled Billing Address Update. Your next bill will arrive at the updated billing address.
Suggested Billing & Account Support Results Topics