Billing & Account Support
Summary
Learn to update a scheduled online payment at cox.com.
Solution
Need to update a scheduled payment on Cox.com? Use the steps below to cancel and reschedule the payment so that you can do the following.
Use a different credit card
Change the amount
Change the payment date
Within 48 hours of the due date, the payment is being auto-processed and cannot be canceled.
1
Sign in to My Account on www.cox.com.
Click Recent Activity.

Result: The Recent Activity window displays.
2
Locate the scheduled payment and click the Cancel link.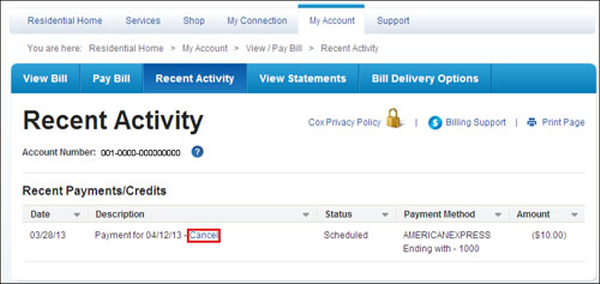 Result: A pop-up dialog box displays.
3
On the pop-up dialog box, click Yes to confirm you want to cancel the current scheduled payment.
 
Result: The payment Status changes from Scheduled to Canceled.
4
To set up a new payment complete the following.
Return to the Pay Bill page.
Enter the amount to pay, the payment method, and the date for the payment to occur.
Click the Preview Details button.
Click the Submit button.
Click the Recent Activity tab to view the newly scheduled payment.
Suggested Billing & Account Support Results Topics