Billing & Account Support
Summary
View an explanation of your bill, including due dates, balances, amount due, and itemized charges that appear on your bill.
Solution
The following information is designed to help you understand what each item of your bill represents. Each item is bulleted and contains a description next to it.

For instructions on how to pay your Cox bill, refer to Ways to Pay Your Bill.
Page 1
Previous Balance – which is the amount left over from last month's bill
Remaining Previous Balance – which is the amount still owed from last month's bill
New Charges Due By the date specified – which are the new charges due for this month, and include the normal charge for TV, Internet, and Phone packages, plus taxes, fees, surcharges, and credits; plus any purchases or services you added in the middle of last month, also called last billing cycle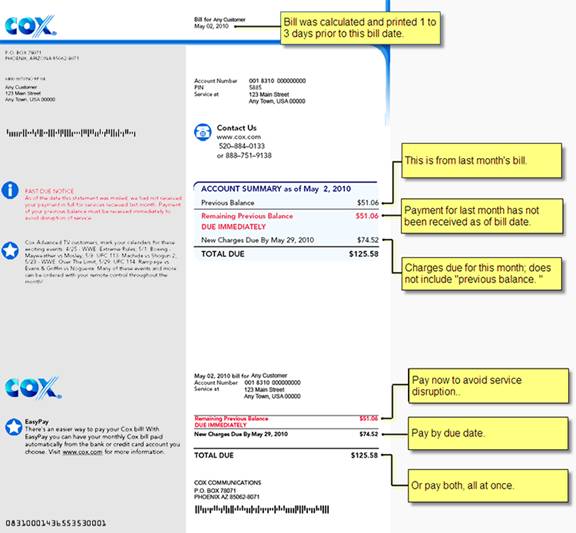 Page 2
Summary Of Charges – which include all of the new charges due for this month
Monthly Services – which itemize the prices for your TV, Internet, and Phone services, due for this month. Additionally, Monthly Services will include feature descriptions for your services which may vary based on if you subscribe to more than one service or by location.
One Time Charges and Credits – which itemize the prices for any one-time purchases, charges, or credits that occurred last month
Taxes, Fees and Surcharges – which are added based on your services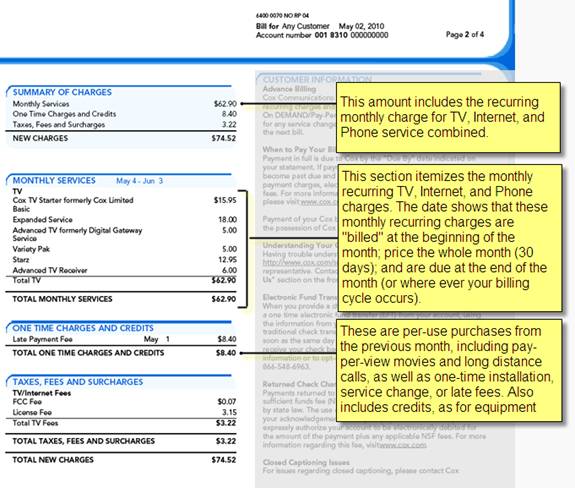 Suggested Billing & Account Support Results Topics