Billing & Account Support
Summary
To help protect your telephone calling records and other vital information, Cox has created a four-digit Private Identification Number (PIN) exclusively for your use.
Solution
About Cox PIN
Cox is committed to protecting your privacy. The Federal Communications Commission (FCC) has rules that telephone companies must abide by regarding the handling of telephone calling records and other customer sensitive information. In accordance with these rules, our procedures are designed to protect your privacy.
 
The use of "pretexting" has increased. Pretexting is the act of posing as a customer or other authorized person, for the purpose of obtaining telephone records or other sensitive account information.
Your four-digit Cox PIN is designed to protect your account. This PIN will be requested during any of the following transactions:
Telephone calling records
Changes to billing address
Changes to authorized account users
Locating your Cox PIN
The PIN can be found on your current billing statement: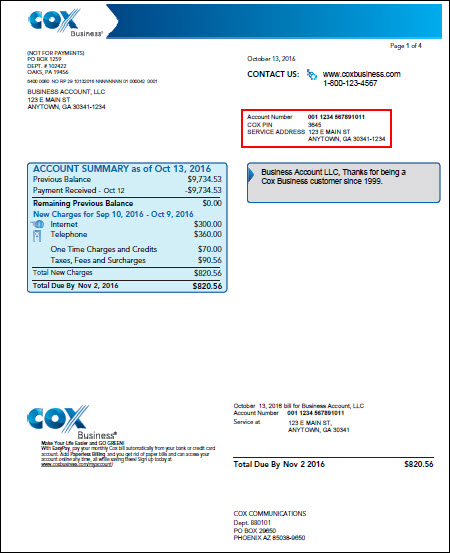 Changing your Cox PIN Online
If you determine that your PIN must change, please follow these registration steps:
2
Login to your MyAccount profile.
Click Profile Administration.
Click Manage Cox PIN.
 
Note: If you do not have an active MyAccount profile, you must register online prior to managing your PIN. See Setting Up MyAccount Online.
3
If you would like to change your previously assigned Cox PIN, you may change it at any time.
4
Establish a personalized Question/Answer if you were forget your Cox PIN.
5
Establish a preferred method of communication, either USPS mail or email to notify you of changes made to your customer sensitive information.